It's my birthday today and I've got lots of lovely goodies to show. First of all is a row counter bracelet and scissor fob with detachable stitchmarkers from
Knitz and Glitz
. These are both beautiful, but I especially like the stitchmarkers on the scissor fob.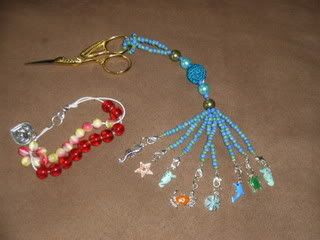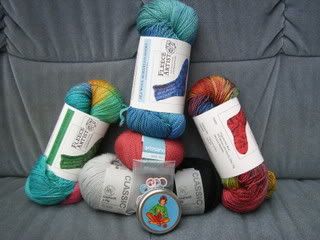 Next, some yarn pr0n. I had 3 skeins of Fleece Artist Sea Wool sock yarn in (L-R) Pinata, Marine and Jester. Pinata and Marine are destined to become
these
and
these
, and Jester will become a scarf, although I haven't found the right pattern yet. If you have any ideas, let me know. I also had a ball of Artesano Alpaca Inca Mist, to go with the one I had from Kai in the Secret Summer Santa Swap a couple of weeks ago. This is going to be a
Bertie
, designed by the talented
Bronte
. I had 7 x grey and 7 x black RYC Cashsoft DK, for a ribbed sweater for myself, a pack of Clover ring stitchmarkers and a tub of Blue Sky Alpacas
Knitter's Little Helper hand balm
. Fab stuff. :0)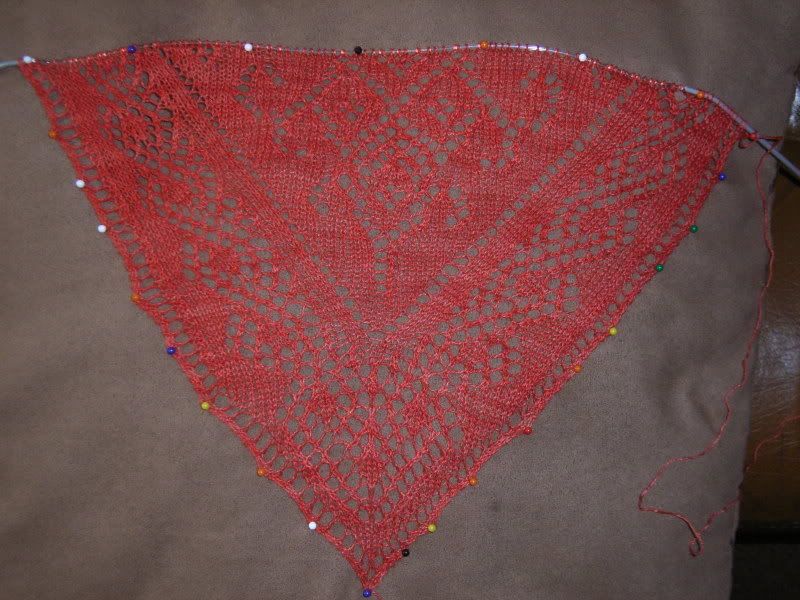 I also managed to finished Clue 1 for
Mystery Stole 3
this morning. Yay!! Now originally I had no intention of joining in with this because I've got loads of WIPs to finish and another load of PIWs (projects in waiting) to start on. But I'd seen a few photos of finished Clue 1 and was hooked. I joined up and am so glad I did. I swatched (yes, I did, swatch hater that I am!) and decided to use
Posh Yarn
Cecilia cobweb laceweight in Marmalade (from stash *polishes halo*!) using 3mm needles. This yarn is so fine that it makes the PY Eva laceweight I'm using for a stole from Victorian Lace Today look like DK! It's knitting up beautifully though.
At row 100, it's measuring approximately 15 inches wide. Click on the photo to see better detail. Unfortunately, this is a pretty rubbish photo, it looks much better with a black background, so I'll try and take another one later and change it. Can't wait for the next clue to come out this Friday. Oh, sign ups close on Friday 6th July, so if you want to join, DO IT NOW!