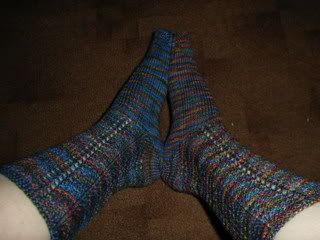 I'm usually very anal about getting my socks to match *identically*. I fret if a striped pair are even a millimetre out and I spend hours trying to get handpainted sock yarn to match. (rolls eyes)
Now, these socks aren't remotely alike, even though they're from the same skein which didn't have any breaks or knots in it.
BUT I DON'T CARE!
I love this yarn so much I don't care that there's an obvious change in the colour. This is Fleece Artist Sea Wool sock yarn and I can't wait to get some more. :-) It's gorgeous to knit with and feels like silk slipping through your fingers.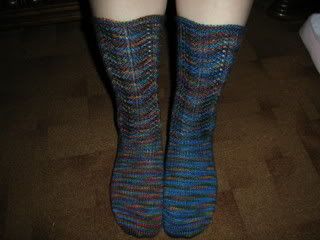 The colours are wonderfully vibrant IRL. It may just be my crappy monitor, but these pictures really don't do the colour justice.
I used one whole skein of Sea Wool, 115 grams/350m, for these socks on 2.75 mm circs. This fits my UK size 6 foot which is approx. 8.5 inches around the ball of my foot, approx. 9 inches from heel to toe, and the socks have a leg length of approx. 10 inches. I used Wendy's generic feather and fan sock pattern (
http://wendyknits.net/knit/featherandfansock.pdf
)
I admit I was a little dubious about increasing from 60 sts to 72 sts for the leg. I thought they would be way too baggy. But they fit perfectly. :-) The yarn knits up very quickly, with great stitch definition and has a lovely sheen to it. I'm really looking forward to using more of this in the future.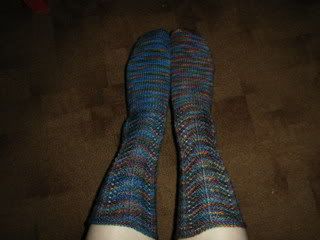 Guess what I'll be wearing to work tomorrow ..... ;-)