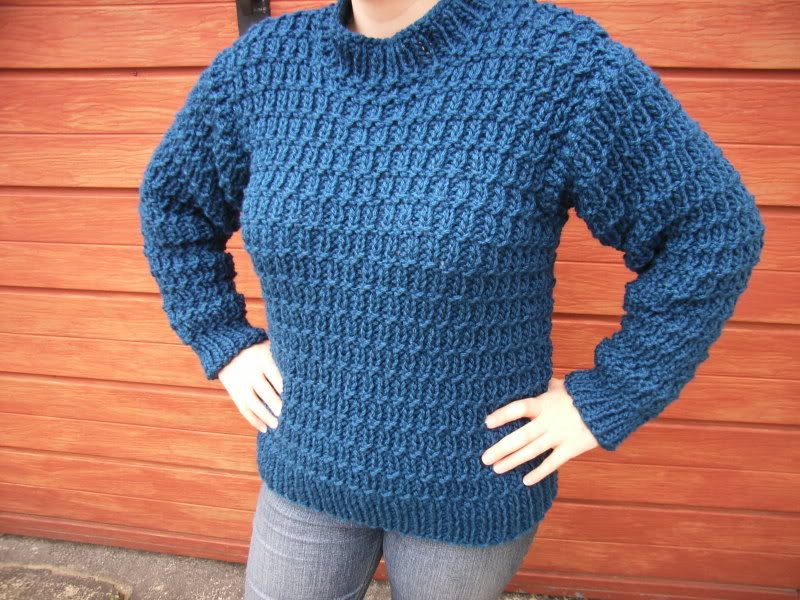 This is sweater #1 - which I finished this morning due to an unexpected day off work. DS (age 5) was unwell yesterday, complaining of a headache and sore tummy. Well, he woke up at 6 this morning, was sick all over the bed and about 5 or 6 times after that! :0( So he couldn't go to school and I couldn't go to work.
BUT, the silver lining to this cloud was that while he was asleep for an hour or so, I managed to finish the sleeves (I knit both at the same time), do the neckline and do the dreaded sewing up. YAY! I'd actually forgotten about the sewing up bit - which is the bit I hate the most. And to think I've got to do it another 3 times! :0(
I'm really pleased with the finished sweater, although it doesn't suit me and wouldn't be a pattern I'd choose to knit myself. For some reason, I don't know if it's the chunky yarn, but it just makes me look HUGE! I like v-neck sweaters with waist shaping - this doesn't have any - which I always think are more flattering.
Anyway, I'm still pleased with it and managed to get it packed up and posted off lunchtime, thinking it would get there tomorrow.
BUT NO! Damned Royal Mail are having a 24-hour strike so my sweater isn't likely to arrive until Monday. **%%££**!!!!!
Anyway, can't stop - I have sweater 2 to cast on! :0)