These past few days I've searched the whole house, high and low, 2 or 3 times in each room, searching for a pattern - King Cole #2242. I've had this pattern for over 20 years and now I've been asked to knit another 3 blankets, I've lost the blooming thing. I posted on forums to ask if someone might have a spare copy - they don't - and I've e-mailed the company (who probably won't be able to get back to me until next week).
It was only after e-mailing the company that I found some photos I'd taken of the blankets I made last year, nice close ups. So good in fact that I could see how many stitches I had OTN and from there work out the pattern. It was a toss up between sl1, k2tog, psso or k3tog on the pattern row - I went for the sl1, k2tog, psso in the end because it looked more like the photo. ;0)
And this is what I have at the moment -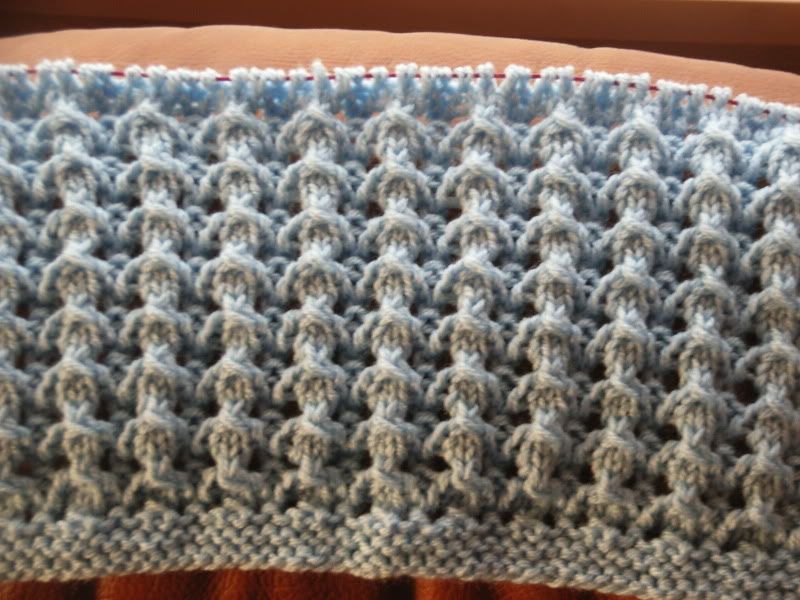 2 of my cousin's friends have had baby boys recently and one is due next week. She wants me to knit three blankets in a fortnight! She's got no chance! I have, however, agreed to get one done within the next fortnight and let her have the other 2 as soon as I can. (I do have a life, you know, and DS and DH demand to be fed occasionally!)
I've been knitting dog sweaters again for
Many Tears Rescue
in Llanelli, South Wales. They're short of Labrador-sized sweaters at the moment so I'm using some Sirdar Country Style DK in Teal that I've had in my stash for over 2 years - it was originally bought to make me a cardigan but by the time I got around to using it, I'd gone off the pattern!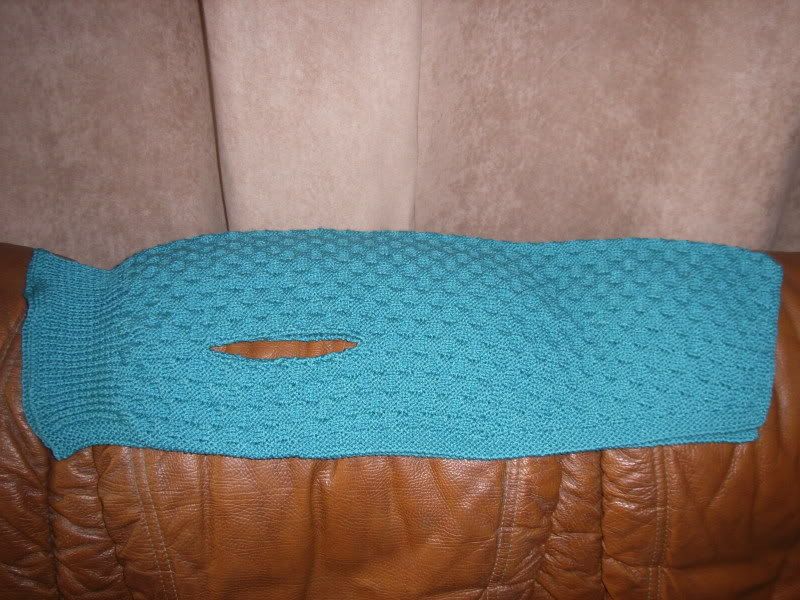 And I'm only 10 rows of rib away from finishing these socks for my aunty. Remember the merino/tencel ones which I'd promised her and then kept myself? Well, these are to make up for it. ;0)
The yarn is
The Yarn Yard
Soulmates sock yarn in the Arm in Arm colourway. I have 50g of the variegated left over and 10g of the solid so I should be able to make another pair of socks for myself out of that. Excellent value for money, I'd say.