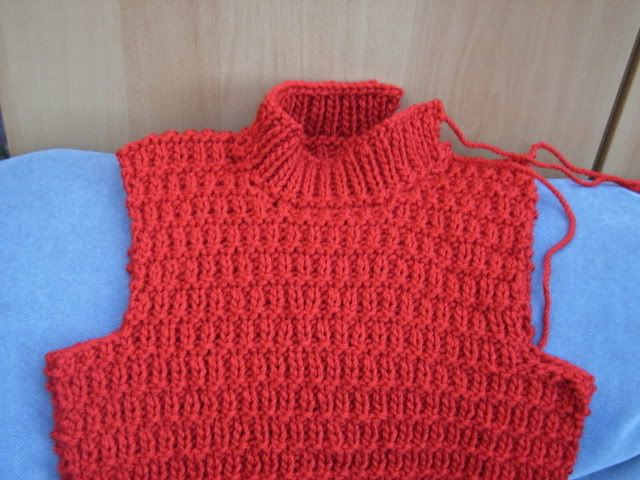 I finished sweater no. 2 earlier - YAY!!! It's now all packed up and ready to go off to King Cole Ltd. tomorrow. Unfortunately, I didn't take a picture of it after I'd sewn it up. Instead, here are some WIP pics.
I received the payment today for the first sweater, which has spurred me on to get this one finished and start no. 3.
They also told me that I get to keep the unused balls of yarn, which is great. There are about 3 and a half balls left over from each sweater so I should be able to make 2 sweaters for DS (one in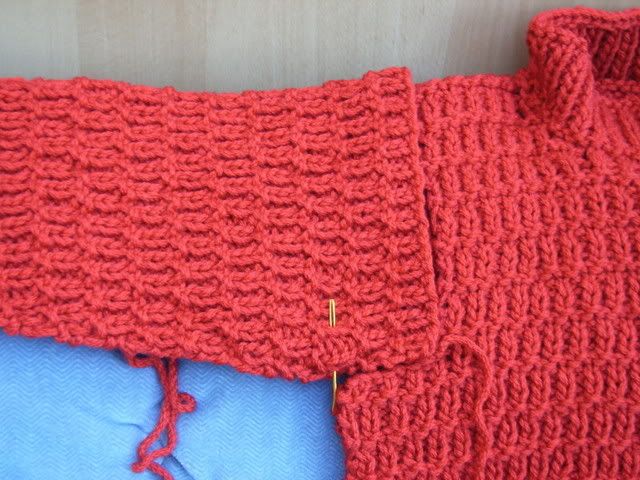 each colour) and use the rest to make some crochet throws.
I also managed to do some knitting on my Sockamania July socks. I've almost finished the first one - just the rib to go. I'll post pics tomorrow.
This is the third Sockamania sock I've knitted and unfortunately I won't get to wear this pair either! The first ones will be going to my Sockapalooza pal next month, the second ones I gave to DS's teacher yesterday and now DH has nabbed the third ones!
Out of the 40-plus socks I've knitted so far, I've yet to knit a pair for DH and I think he's feeling a bit left out. ;0) I've refused to knit him any so far because his toe nails are so long they always go straight through his socks (gross!!) but he's promised to keep them trim and keep these socks for best.
Oh well, maybe I'll get to keep next month's ..... ;0)