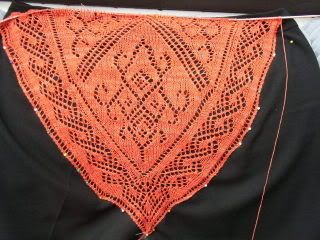 This is Clue 2 of MS3 which I finished about half an hour ago. I really must invest in some black material to take these photographs on - using the seat of my best black work trousers just doesn't cut it somehow! Brings a whole new meaning to "does my bum look big in this?" !!!
I'm really enjoying this pattern so far. I have no idea what the theme could be, although the next bit of pattern looks like it will be honeycombs and the first bit now looks a bit scarab beetle -y to me. But who knows!?!
I'm really enjoying knitting with this yarn - Posh Yarn Cecilia cobweb laceweight. It's in the Marmalade colourway and has a very subtle variegation running through it.
Roll on next Friday and Clue 3!