After having vented my frustration last night, I'm now feeling much better. :0) It helped that I had a knitting group meeting this afternoon with Debs, Lane [and her sweet son ;0) ] and new member Jenny - I felt much more relaxed afterwards.
I'm finally ready to show a few photos of FOs. I've mostly been knitting afghan squares, but I'll show some pics of those later. Firstly, I want to show you the socks I'm working on at the moment - with Jitterbug sock yarn by
Colinette
.
(OMG! I've just seen their new Iona designs - simply lush!)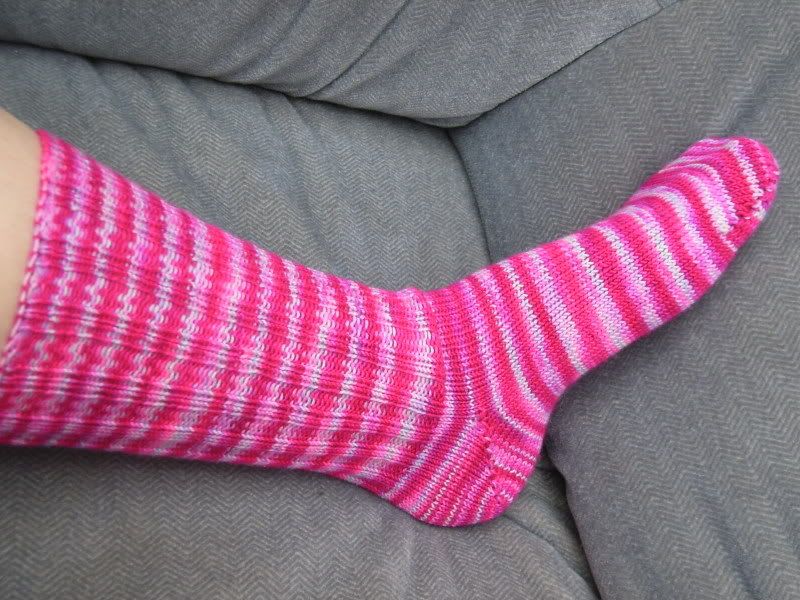 I can't praise Colinette enough on both their yarns and patterns. I've never had a problem with needing more yarn than stated for projects and their sizing is spot on.
This is the first time I've used Jitterbug and I have heard people complain that they haven't had enough yarn to knit a "decent" sized sock so I was on a bit of a one-woman mission to prove them wrong. I think I may have achieved that mission. ;0)
For these socks, I used a 115g / 291m skein in the Alizarine colourway. I used 2 x 2.5mm Addi Turbo circs. I knit my socks toe up with 60 sts. I knit 60 rows for the foot, then did a short row heel. I then knit 10 rows of SS for the ankle before starting on a 2x2 rib pattern for the leg - I did a massive 95 rows of this and still had some yarn left over. This gave me a leg length of about 7.5 inches. I like the legs of my socks to be long and this yarn certainly delivered. So a big thumbs up to Colinette! :0)
Okay, now for my afghan squares. These are what I've done so far -
From left to right -
Alternating Diagonals in Gooseberry for my dad
Dimpled Delight in Olive for me
Lacy Eyelets and Rib in Fern for my dad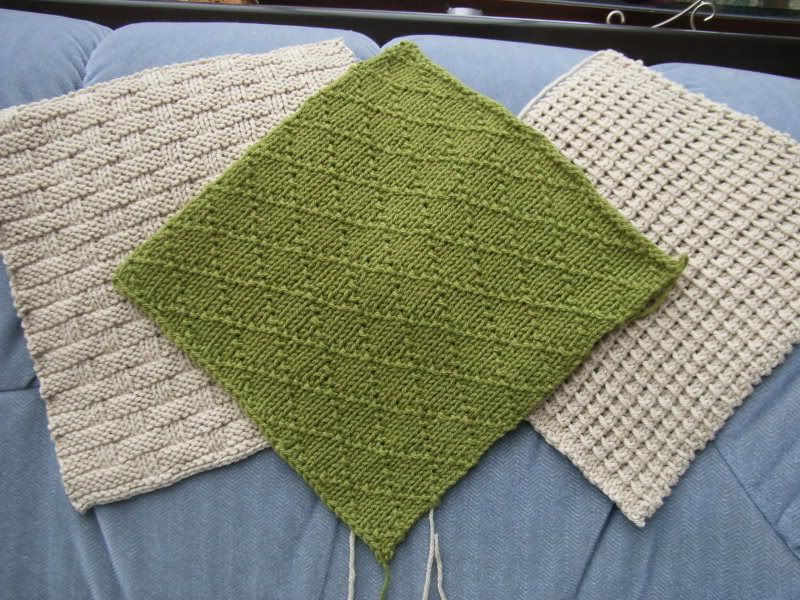 From left to right -
Basket Weave in Oatmeal for me
Diamond Brocade in Olive for me
Lucky Bamboo in Oatmeal for me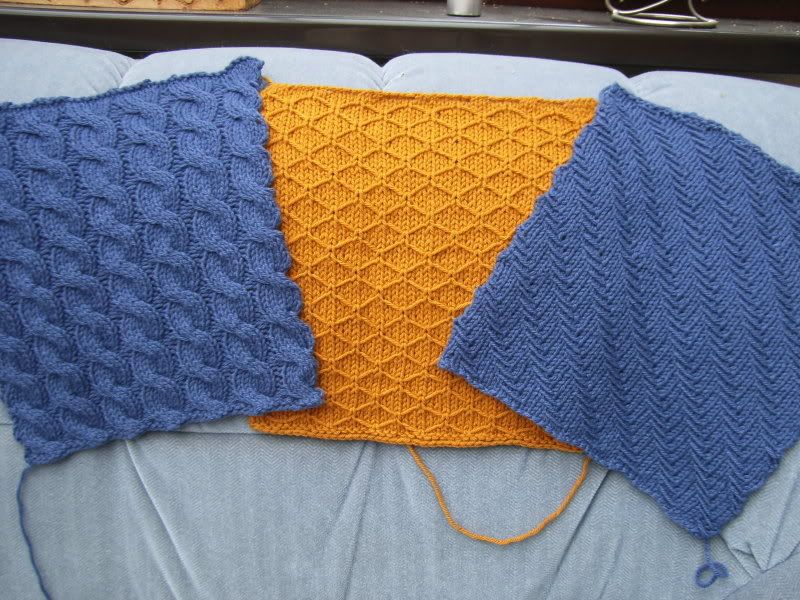 From left to right -
Adam's Rib in Airforce Blue for me
Quilted Brocade in Pumpkin for me
Woven Fun in Airforce Blue for me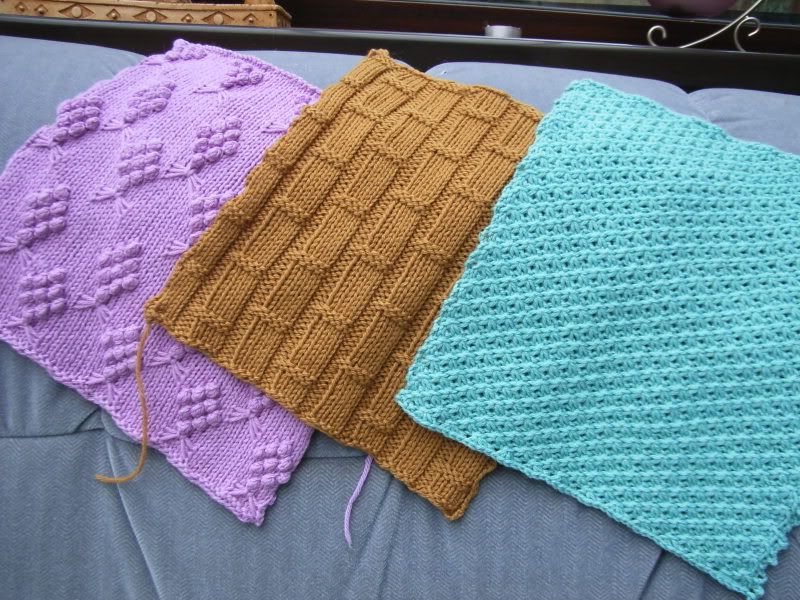 From left to right -
Bouquets in Lavender for my aunty
Big Bamboo in Mustard for my dad
Daisies in Ice Mint for my aunty
I have another 4 blocks waiting to be washed and blocked - they're all 12 inches after blocking. I finished the most gorgeous "Lamb's Tails" this morning for my aunty in cream - very tactile and nubbly. :0) I chose this design because her name is Mary. As in "Mary had a little lamb". Geddit? ;0)
I'm really enjoying knitting these squares. They're not too big so don't get boring (and some knit up extremely quickly) and they introduce new techniques too (like in the Bouquets square). The patterns for my dad and aunty have come from the
Vogue Stitchionaries
(Vols. 1 and 2) and are knit in
Cascade 220
on 5mm Knit Picks Circs - the ones for myself are from
the Yarn Grove's
Under Cover Club
and are knit using
O-Wool Classic
on 6mm Denise Interchangeables. Both yarns give 2 squares per 100g skein.
I'm seriously thinking about knitting some squares out of
this book
. I love the sweater square (so cute!) and like the idea of knitting cables in the round, something I haven't done yet. I can see a few of these squares turning up in my current afghan projects, although I'd like to try every square at some point.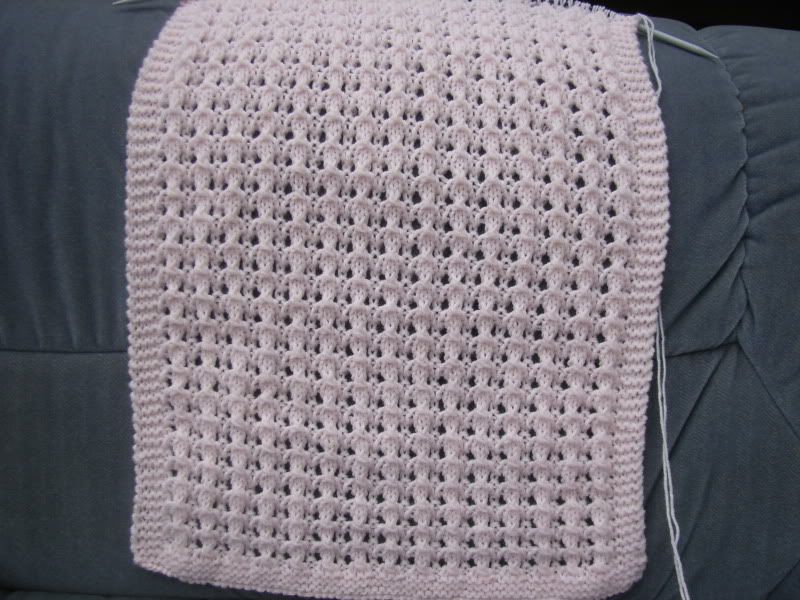 This WIP has now become an FO and is winging its way to my cousin in Southampton. I made her one in cream RYC Cashsoft DK when she had her 2nd baby back in June and she liked it so much she asked for another.
This one is knit using Sirdar Snuggly DK. Not quite as lush as the Cashsoft but still very very soft.
It's a King Cole pattern - # 2242 - which I've had for so long that I don't know if it's still available. It's a 4-row pattern and uses about 300g of DK yarn (which is held double throughout) on 6mm needles and is a very quick knit - this one took me about 8 hours from start to finish. The pattern is easy to memorise and the blanket measures about 20 inches x 27 inches when complete.
I'm still working on Della, although I haven't done any for a few days. I'm at 110 rows at the moment, so only another 90 (or so) to go! ;0) But I'm still enjoying the pattern, which is always good.
Still no news yet on whether my
Sockapalooza 4
socks have reached my pal, which is a bit worrying seeing as I mailed them (to the States) over 3 weeks ago. Leyna, if you're reading this - LET ME KNOW IF THEY'VE ARRIVED! Thanks! :0)
(Humour me - they're my babies and I worry about them!!)
I haven't received my socks yet, either, but my pal very kindly e-mailed me and said she's still working on them and they were going to camp with her last week so she could finish them. So hopefully I can start postie-stalking soon. ;0) Fingers crossed! :0)