Yay!! I've been nominated by
Joy
as a Rockin' Girl Blogger. Thanks Joy!
And in honour of this event - and seeing as how I haven't blogged about anything for a whole week ;0) - I thought I'd better show you what I've been working on for the past few days.
This is Della, the first project from the Hipknits Project Club (click on the sidebar button for details) -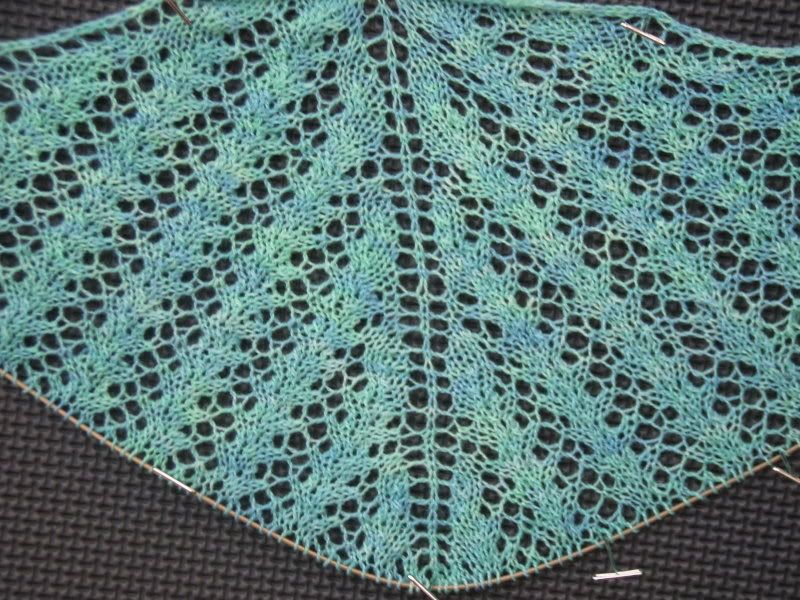 The yarn is
Hipknits
Cashmere laceweight in Seaweed. Kerrie, who designed the shawl, says "Della is the highest waterfall in Canada and this shawl was inspired by the idea of a lace pattern that mimicked falling water splashing into a pool at the bottom of the drop". I have to say that the Seawood colour really does look like sunlight dappling on water, so is the perfect yarn for this pattern. When the picture was taken, I had knit about 60 rows of the pattern. Unfortunately, I just haven't been able to find the time to do much more of it this weekend, which is extremely frustrating!
DH and I spent most of Friday at Ikea buying some cupboards for the bedroom (we were desperate for more storage). Saturday morning I had an early hair appointment - I've gone for the chop! More about that tomorrow ;0) - then knitting group in the afternoon. By the time I got home, DH had 2 of the units together. While he worked on the third, I fixed the 8 drawers together. We didn't get to bed until 2.30 this morning! This afternoon, I took DS to his friend's birthday party, and this evening I'm surfing the web for a while.
I fully intend to start work on Della again later - I've got itchy fingers now and can't wait to get some more rows done. I just love how this pattern is knitting up and can't wait to get it finished. :0)
Which I will hopefully do within the next few days as I've got TWO WHOLE WEEKS OFF WORK!!!!!!! Yay!!!!!!!!!!!