After being on a yarn diet since the end of June and being very good, I fell off the wagon at
Colinette
yesterday. I decided that this would be my one day off until Christmas. I went to the crochet course and had a brilliant time. I met forum friends old and new - Joy, Christina, Debby and Jackie - and bought a *bit* of yarn. ;0)
Here are some photos - click on them to make them bigger -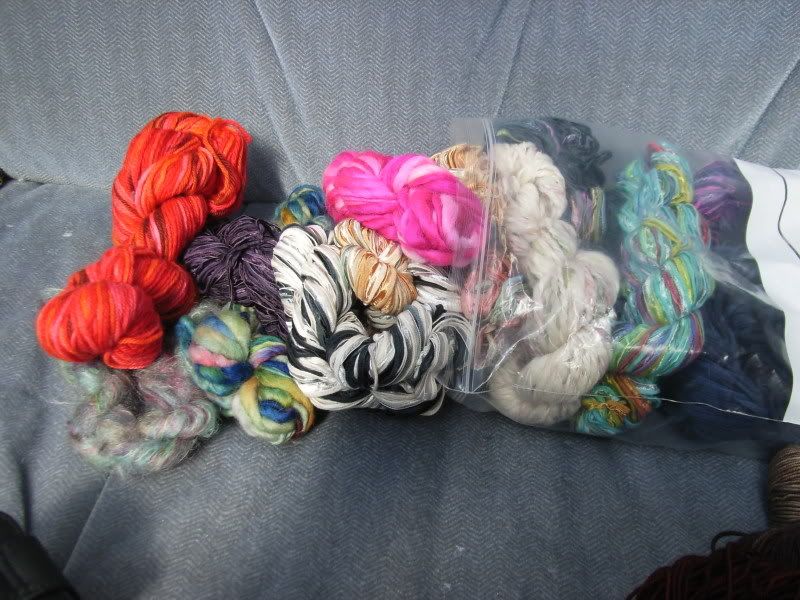 This was a selection pack which cost £20. I can't believe how much yarn is crammed into the bag - once I'd got it out, I had a job to get it back in again! There are loads of lovely yarn samples in there - best of all, there is enough Jitterbug in there to make 3 pairs of socks.
The blue, on the left, is about 50g and enough for a pair for DS, the pink/red and light/dark brown is enough to make 2 pairs for myself, with different colours for the heels/toes etc.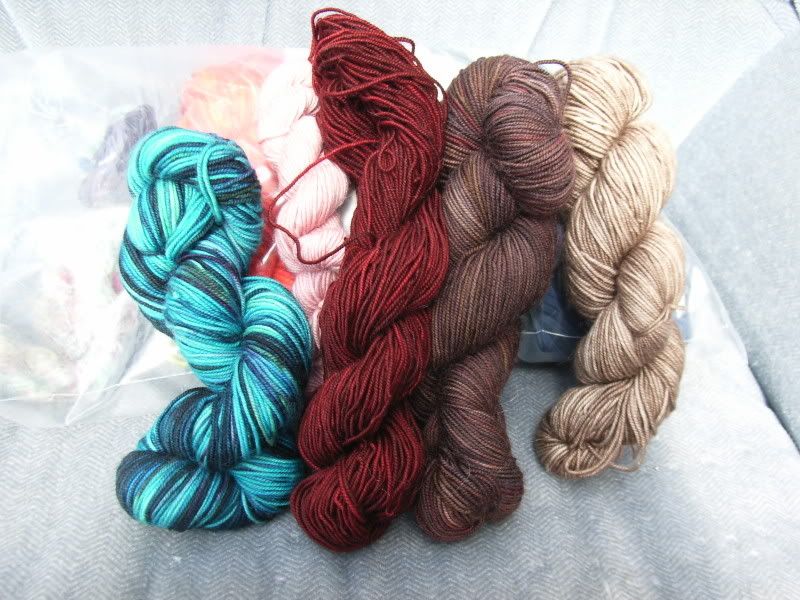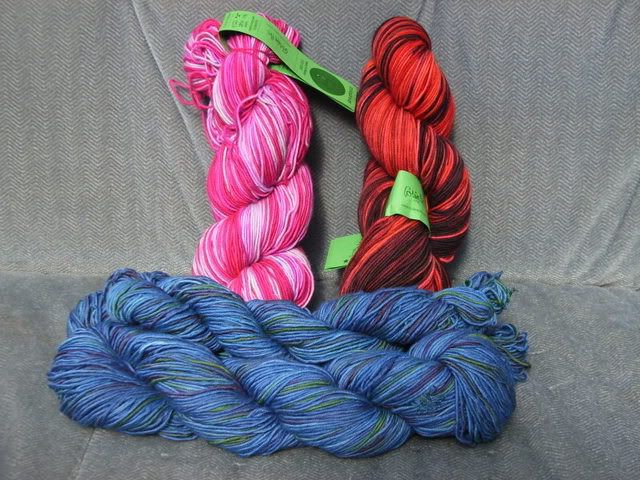 Next, I bought 2 skeins of Jitterbug - Alizarine on the left and Tapis on the right. The blue yarn in front was from the sale room and is Banyan yarn (£2 per skein) which I'm going to use to make the
Alva
cardigan from the Banyan book.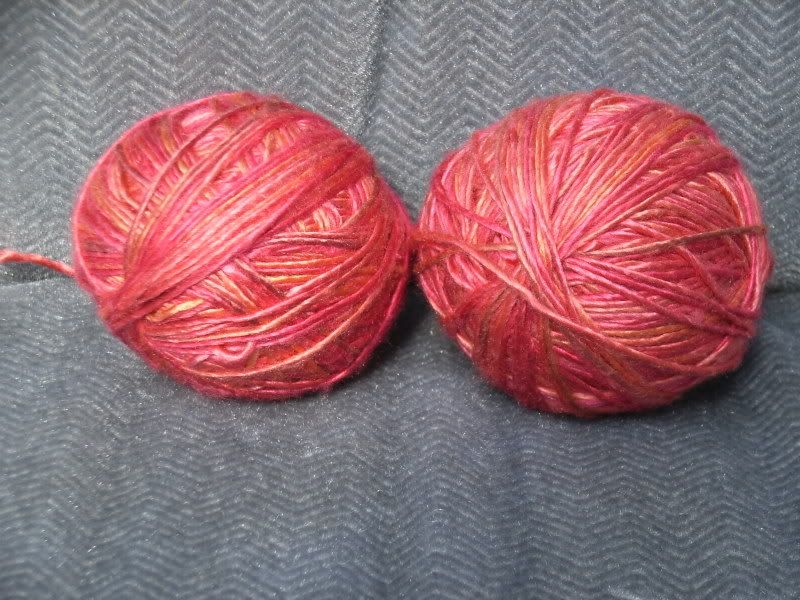 This is 2 skeins of Tao silk (from the sale room). I'm not sure what it's going to be yet but I've got the Arboretum book so may make either a scarf, fingerless mitts or a bag.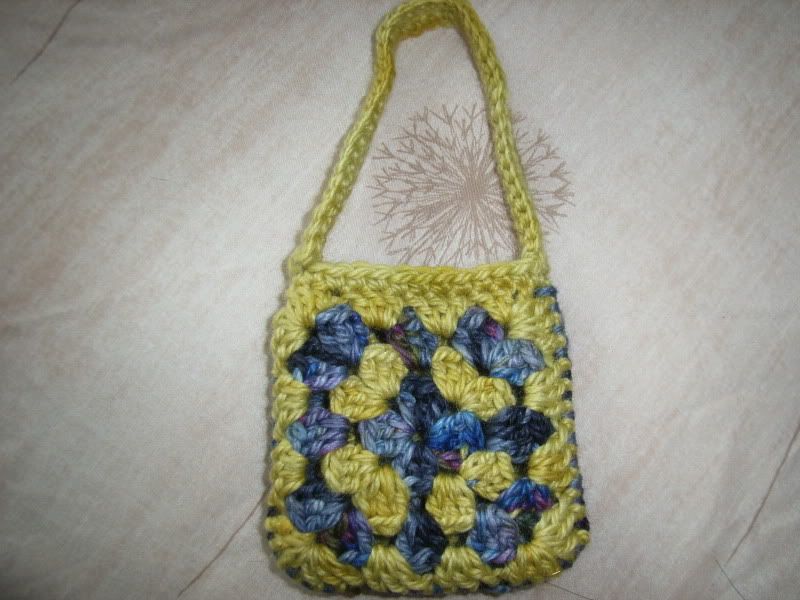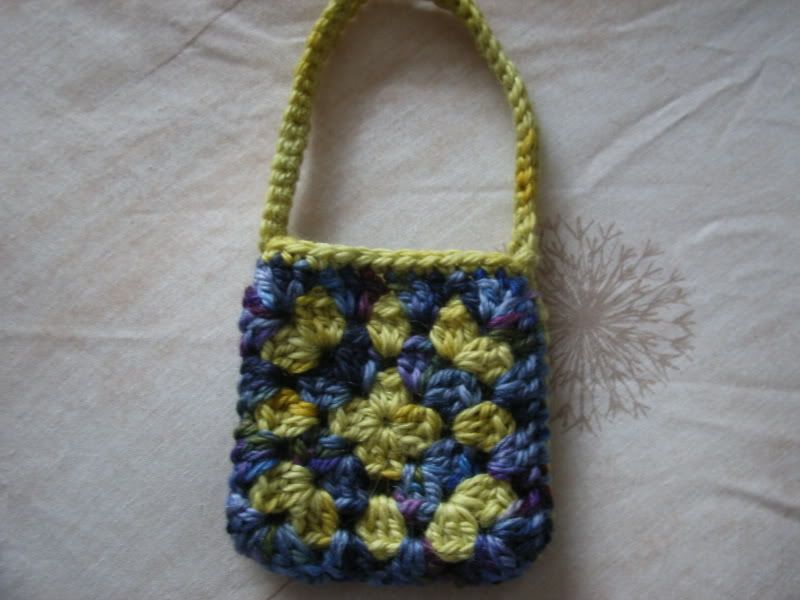 This mini bag is what I made while I was at the crochet course. It's only big enough to fit a mobile phone in but I learned some new techniques - joining in new colours, joining the squares together and how to make a handle that won't stretch.
And finally, this is the goodie bag that all participants on the course had. It's got some great yarn samples in it and I can't wait to get started making some squares. I've decided to make some cushion covers for the living room, so these sample yarns will come in really useful.