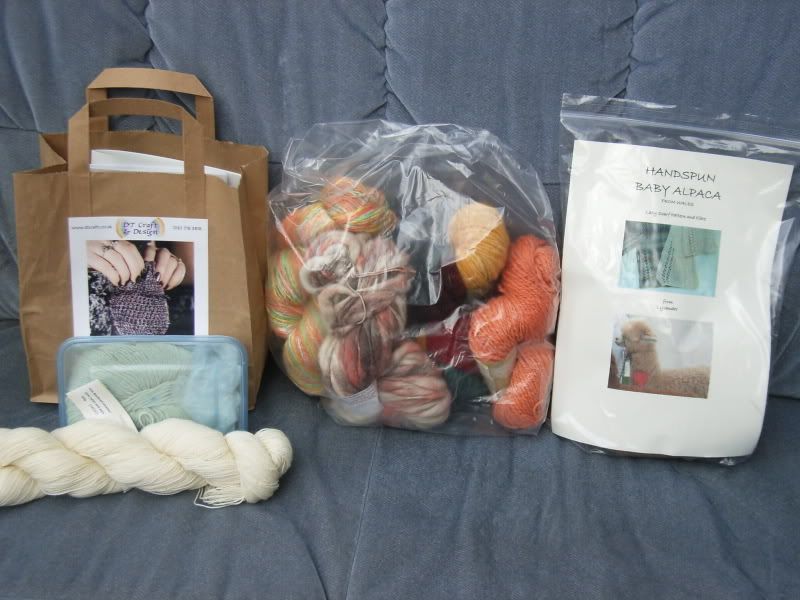 I had such a good day yesterday. We arrived at about 10 a.m. and didn't leave until almost 5.30 p.m.
The photo on the left is my "little haul". ;0) I actually didn't spend very much (for a change *LOL).
There were 4 of us at the spinning class. We started with choosing a fleece, then carding and making rolags. Then we used the rolags with drop spindles. I enjoyed it but don't think it's really for me. Maybe when I've got more time (like in about 20 years when I retire!!) I'll think about it again. At the moment though, I'd rather be knitting. ;0)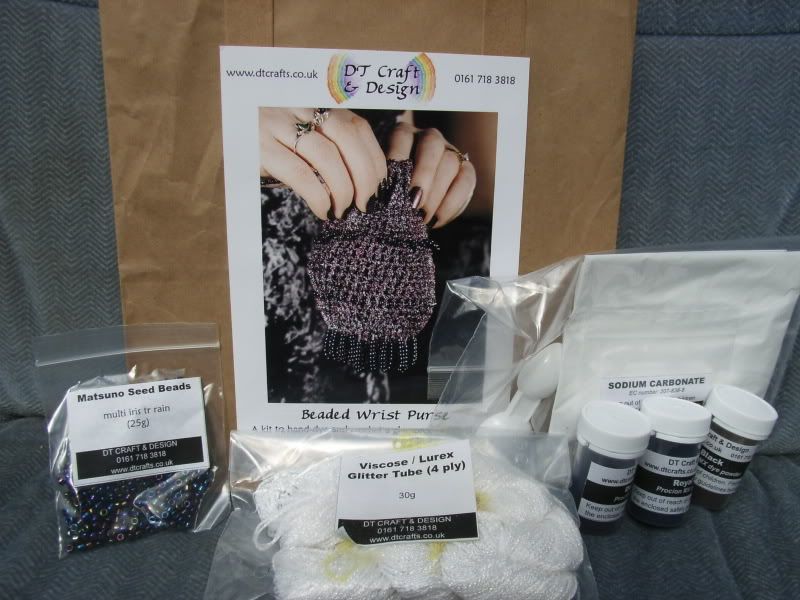 I saw this beaded wrist purse on the DT Craft and Design stand. It was such a cute little purse and the beads gave it a nice weight. You dye the yarn yourself and then crochet the purse. This will be a first for me in two ways - (a) because I haven't dyed anything myself yet (these are Procion dyes) and (b) because I've yet to knit anything with beads. So I expect a steep learning curve!!
Next is a handspun baby alpaca scarf kit. I just love the natural colour of this yarn, it's super squidgily soft and I like the fact that I've got a photo of the actual alpaca the yarn came off (Lysander).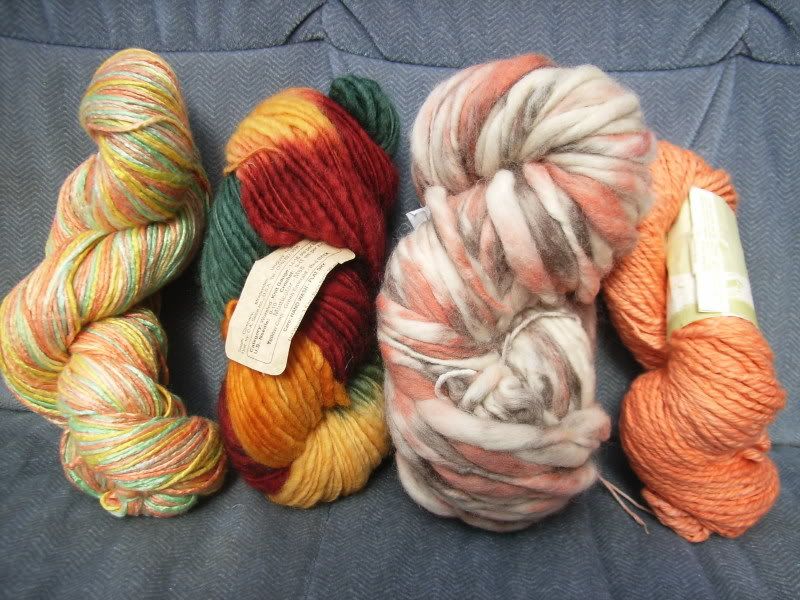 Then I had a bargain at HipKnits - £15 for all this yarn, in one of their sale bags! From L-R - aran weight silk yarn (which will probably become a scarf), a gorgeous red/orange/green worsted weight yarn (destined to become my new sock bag because I broke mine this morning!), a super chunky weight yarn (which will become the handbag from this month's Simply Knitting, along with some other yarn from my stash) and lastly a cotton yarn, worsted weight I think, but I'm not sure what this is going to be. Maybe another bag.
Also from DT Craft and Design, a Kool-Aid funky dyeing kit, including yarn and pattern to make fingerless mitts and wristlets. I thought I'd try Kool Aid before starting on the procion dyes for the wrist purse. I also bought some undyed sock yarn from them, which I've been dyeing this morning. So far, I've got orange/green yarn for the mitts and bluey-green/purpley-red yarn for socks. The yarn is hanging on the line to dry as we speak so hopefully I'll be able to get some photos later, if it dries.
I was surprised at how easy it was to dye yarn, although what my colours will look like knitted up is another matter! But at least it's given me a taste for dyeing and I'm quite looking forward to trying the procion dyes for the wrist purse. I'll probably order some more undyed sock yarn, because I was told I'd have *loads* of dye left over, so I'll be able to dye some socks to match my purse! I do like to be co-ordinated!