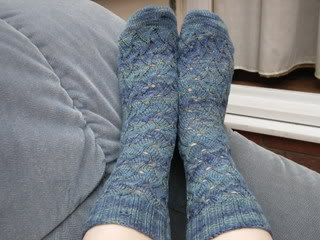 These socks are knit in
Posh Yarn's
Lucia sock yarn in the April Showers colourway (April's sock club yarn) using 2 x 2.75 mm Inox Grey circs, toe up with short row heels.
I thought the colourway went perfectly with the Scrolls pattern from More Sensational Knitted Socks. The pattern reminded me of ripples in puddles - very appropriate today as we've had torrential rain for most of the day. This is a 14-row pattern but it knitted up extremely quickly.
They took me 9 days to knit - I made the first sock in April but got sidetracked by other things ;0) and finally finished the other one today.