I had every intention of finishing off my pair of Sockamania May socks over this long bank holiday weekend. That was until I happened to take a look at the Get Knitted site late on Thursday evening. *rolls eyes and blushes at lack of willpower!*
They've just had in stock the most gorgeous scarf kits from Strickwear - I chose the Merging Colours Pretty Picot Shoulder Scarf in the Blueberry colourway. I placed my order late on Thursday night, it was dispatched on Friday and arrived on Saturday (yesterday). How's that for great service?!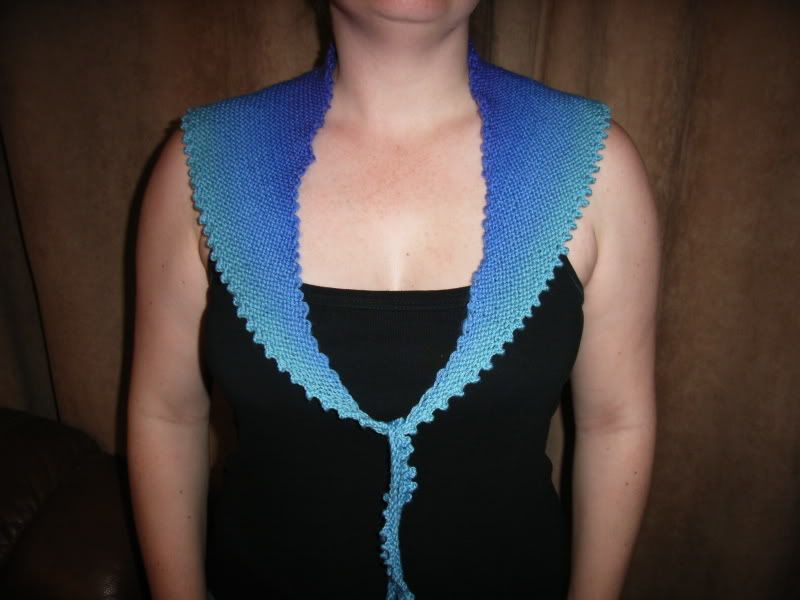 The kit came in its own vinyl zippered pouch and contained 8 x 30g skeins of laceweight yarn in varying shades. Using my swift and ball winder -I'd be lost without them ;0) - I turned these skeins into 24 mini-cakes of yarn. (Each skein needs to be wound into 3 x balls.) To get the merging colours, you work with 3 x strands of different shades, changing colour every 4 rows or so.
It's mainly garter stitch, with a cable up the centre, and is such a quick and easy knit. It's knit using 2.25 mm needles to start (only for a few rows) and then changes to size a size 4mm (24 inch) circular. I used my Knit Picks Options for this bit.
AND I have enough yarn left over to knit another shoulder scarf, possibly even 2. My next one will have the colours merging from light at the neck to dark at the picot edge.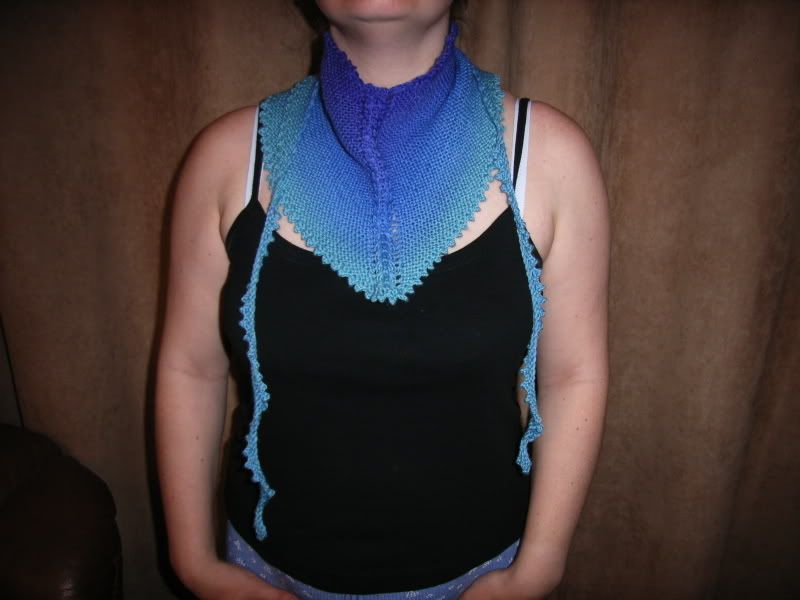 This scarf measures 9.5 inches down the centre back and I can see me getting lots of wear from it. It'll take the chill off bare shoulders during summer evenings and I'll even be able to wear it tucked in the front of a coat during the winter, so it's very versatile.
Can I finally just say - please excuse the white bra staps showing in the photos! *LOL* I wouldn't normally be seen in public with white straps under a black vest but I just threw on this top so hubby could take the photos!