I recently answered a request for "knitters wanted"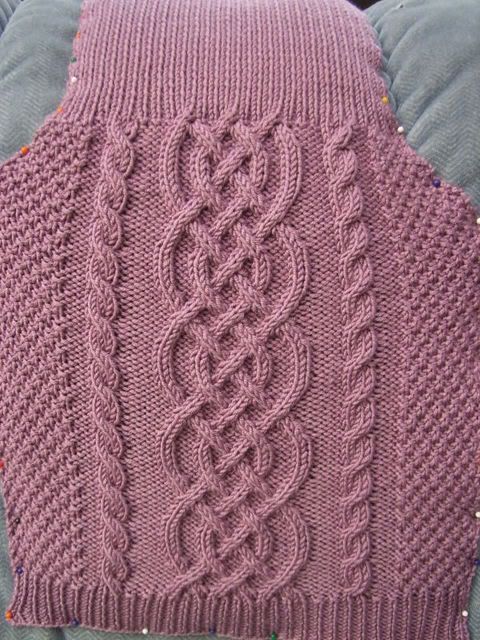 on the Angel Yarns knitting forum. I was expecting to be asked for adult or children's garments - instead I was asked to knit a dog sweater.
The lady who designed the sweater is Faith Verity and she can be contacted via e-mail -
fabdrum74@yahoo.com
.
She e-mailed me the pattern formula and said I could pick any cable pattern I wanted. I love knitting cables so I was like a kid in a sweet shop trying to choose which one to go for. In the end, I went for the Celtic Plait in the middle, with a basic cable either side and moss stitch for the edges. I was really surprised at how quickly it knitted up - this design is for a 30cm sweater.
The yarn is Sublime extra fine merino dk, shade 016 (grape). This was the first time I've used this yarn but it was lovely to knit with and really shows the cables up well. I'll definitely be using it again.
The picture shows the back panel of the sweater. I also knitted a panel for the tummy/underneath which was all in moss stitch.
Now I need to decide what to start next - finish one of my many WIPs or cast on for something new? Hmm ............... cast on for a new pair of socks, I think. Now, knee highs or slouch? Decisions, decisions ;) ...........................................