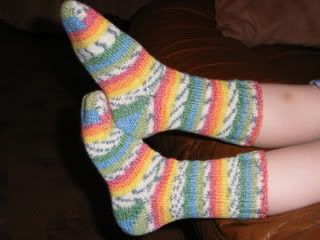 I finished these on Tuesday evening - 'Traffic Stopper' socks for my almost-5-year son. It's Regia Cotton Top Color #4075, using 2 x 2.5mm Addi Turbo circs. He's a size 10-11 shoe and I had a little bit of yarn left over. I liked the feel of this yarn as it was knitting up and found that it's got quite a bit of stretch in it too. He loves them and wore them to school on Wednesday, and Thursday .... in fact, he hasn't taken them off since! They'll start humming soon! ;0)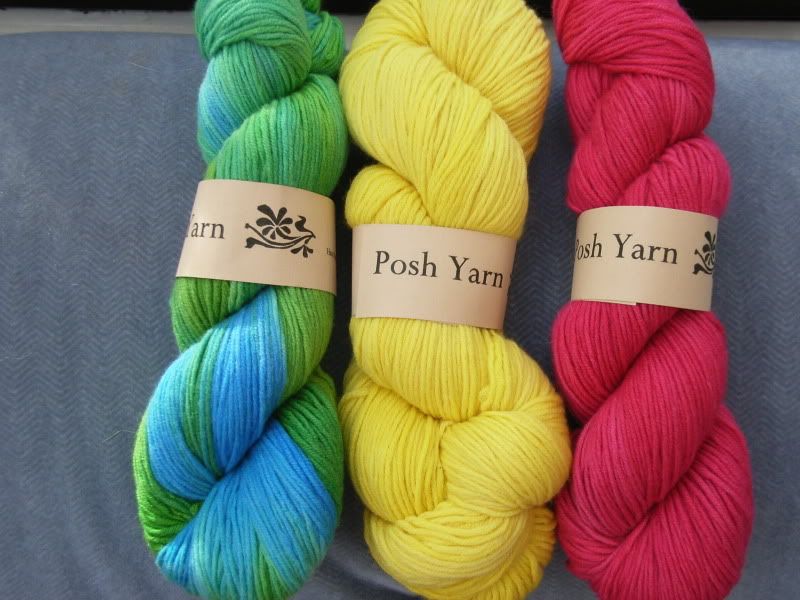 And this lovely yarn is the result of S.E.X. at Posh Yarn's sale last Sunday. It's all Emily sock yarn - L-R - Surf 'n' Turf, Canary and Carnation. They are such lovely vibrant colours, unfortunately the photo doesn't do them justice, they are so much more vibrant IRL.
Also today I finished Sahara but haven't been able to get a decent photo so that'll have to wait till the weekend. I'm really pleased with how it turned out and think I'll get a lot of wear out of it with the short sleeves.