We arrived back home last Friday after a few days away in West Wales. We stayed at Mulberry Cottage, Plas Llanina near New Quay and were just 150 yards from the beach. It was peaceful and secluded and the cottage we stayed in was immaculate - wooden floors throughout, brand new kitchen and a wonderful king size bed that I wish I could have brought home with me. It was fantastic being able to stretch out and not be anywhere near DH - or have him stab me with his toes! ;0) A totally gross thought - but it happens more frequently than I care to think about!
There was a lovely patio area out the back surrounded by woodland which was a lovely sun trap.
Here I am, getting my priorities right ;0), and finishing off a sock.
This is Buster - I think he's jus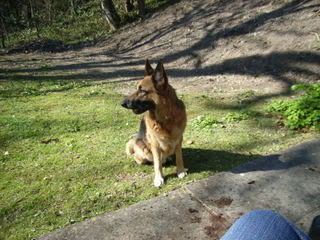 t spotted a squirrel .....
Jason, Jared and Lexi (under the table) taking a break from football .....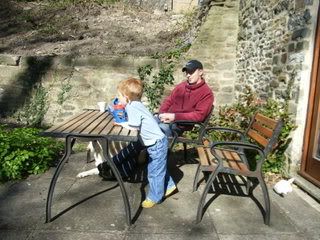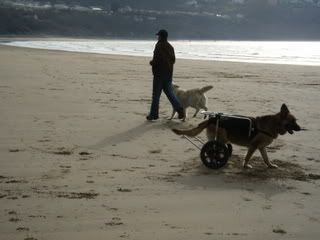 Jason, Lexi and Buster (in the cart) enjoying a stroll across a deserted Llanina beach - in the background is New Quay - you could walk across to it an hour either side of low tide.
If you look closely, this bird is collecting Lexi's fur - these birds will have the best insulated nests for miles around. It was fun watching them come back for more ..... ;-)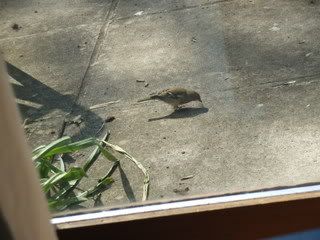 And me, Jared, Lexi and Buster on Cei Bach beach which was just over the pebbles from Llanina beach ..... we stopped at a lovely pub on the way back for a lager (well, it was after 12.30 pm!!).
The only downside to our holiday (I knew it was too good to be true!) was that there was another cottage above ours - it was an old granary building that had been divided laterally - and one of the people staying there snored.
*Really loudly*
I'm a very light sleeper and I just couldn't get to sleep. All I could hear was this person snoring. They just didn't stop. I tried stuffing paper in my ears, but nothing helped.
On our first night there, it took me until 2.00 am to get to sleep, 4.00 am on the second night, and 2.30 am on the third. By the second night, as I was tossing and turning (Jason and Jared had no trouble getting to sleep *rolls eyes*) I was busy devising a painful death for whoever it was doing the snoring ..... I'd stab them with one of the extremely sharp kitchen knives. No, I'd bludgeon them to death with a blunt instrument. No, hang on, perhaps it would be more satisfying to throttle them slowly with my bare hands ..... Needless to say, I'm evil if I haven't had my sleep. ;0) *LOL*
If we go again (which I think we probably will) I'm definitely taking a set of ear plugs. :0)