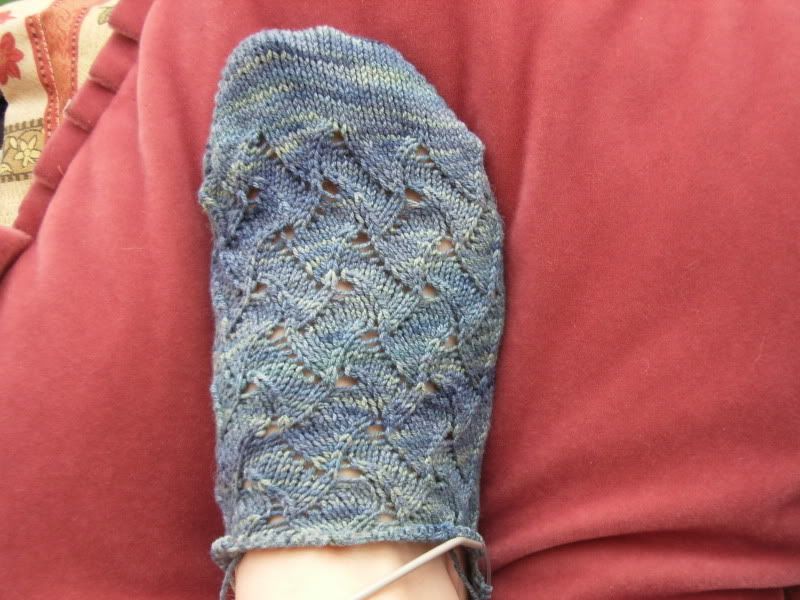 Well, not exactly, it's been gloriously sunny here today but that's the song I've been singing while knitting my current socks. ;0)
I'm using Posh Yarn's April sock club yarn (Lucia) called "April Showers". When I first saw this yarn, I wanted a pattern that would look like ripples on water. Then I saw the "Scrolls" pattern on page 95 of More Sensational Knitted Socks. It's a 14-row pattern, and every row is a pattern row, but I'm really enjoying knitting these. This pattern has such a great texture to it as well, it's almost 3D IRL.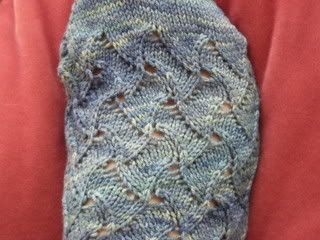 I'm quite tempted to make the "Travelling Vine" pattern for my next pair in Sirdar Town and Country - I've got 2 gorgeous green balls of this in my stash. A friend I used to work with years ago is 72 next week, and her favourite colour is green, so I think I'll make them for her.
Valerie, I'm glad your Posh Yarn came today, it's always nice to have a squishy pink parcel in the post. :0) Is yours the same colour? I know Dee said they'd all be slightly different.