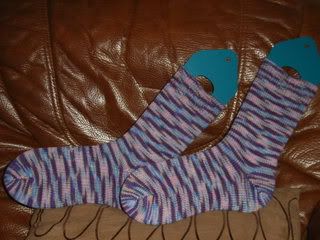 These are my Summer Sunset socks, knitted in Opal Prototype yarn bought from an e-bay seller in Germany (see previous post for details) and knitted using 2 x 2.5 mm Addi Turbo circs.
I finished these on holiday last week and they softened up wonderfully after washing.
Next, stitches of a different kind. This is Robbie the Rat who has decided to start taking his stitches out now we've taken off his sock/sweater. It's 10 days since he had the op to remove a tumour and is due to go to the vet to have the stitches removed but at the rate he's going, he'll save me the vet's bill! The lump was much larger than the vet originally thought, hence the alarming amount of stitches (10 I think). But he's healing well and is back to his old self.
(btw - the dirty hand belongs to DH!!)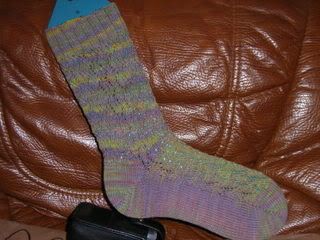 These are the socks I'm working on at the moment - my first pair from More Sensational Knitted Socks. I'll give you a clue as to which pattern it is ..... I have an annoying little habit of singing songs depending on the name of the yarn/pattern I'm using at the time. For instance, while knitting Anni's 'Falling in Love' sock pattern, I kept singing "falling in love again, what am I to do, can't help it" in a sort of Marlene Dietrich accent. I'm not sure if she ever sang it, but that's what kept going through my head! It drove DH potty ;0)
Anyway, the song that's been accompanying the knitting of these socks is Marvin Gaye's "I heard it through the grapevine".
(but without the silly accent this time!)
Any ideas which pattern it is? It actually looks slightly different to the one in the book, possibly because they've used plain yarn.
Anyway, enough of my eccentricities - ;0) - I'm knitting these with Posh Yarn's Lucia sock yarn in the March Hare colourway (March's sock club yarn) on 2 x 2.75 mm Inox Grey circs. I wasn't over-fussed on this colourway originally, but I have to say it's grown on me and I think it suits the pattern. It's a 12 row lace pattern and is knitting up really quickly. I'm almost at the heel and hope to have these finished tonight so I can start on Posh Yarn's April club yarn - April Showers - tomorrow. It's a lovely mix of watery blues and greens and I have two patterns from More SKS that I'm dithering over at the moment. Perhaps by the time I've finished these, I'll have made up my mind. ;0)