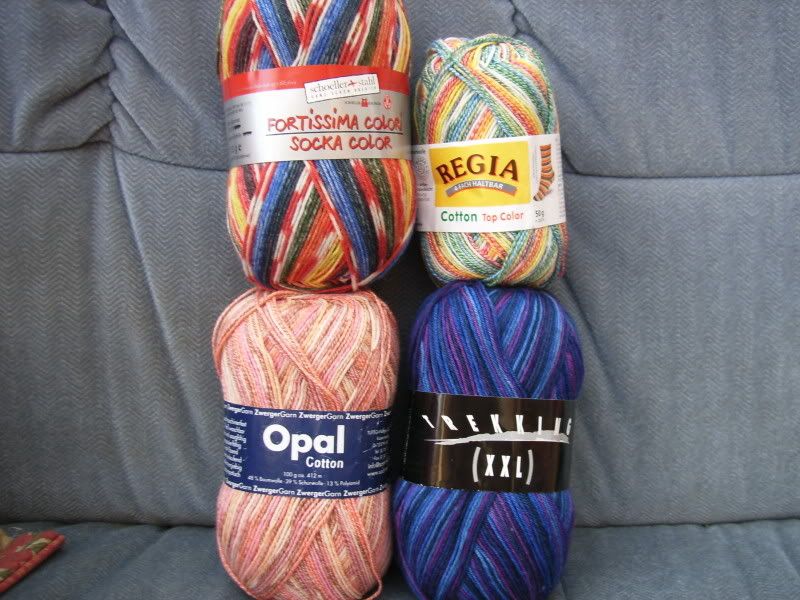 I have had such a good weekend - I feel relaxed and refreshed (for a change). :0)
Yesterday, I went to Abergavenny craft market and came away with 4 balls of sock yarn - DS chose the 2 balls on top - he has such a weird taste in colours, ranging from shades of grey one week to every colour of the rainbow the next!
I've already started to knit the Regia Cotton socks for him and the colours are so much more vibrant IRL.
Here's a close up of the Trekking - it's such a beautiful rich colour. My dad and my DH have both said how much they like it. This is supposed to be for ME! I think I may have a fight on my hand here!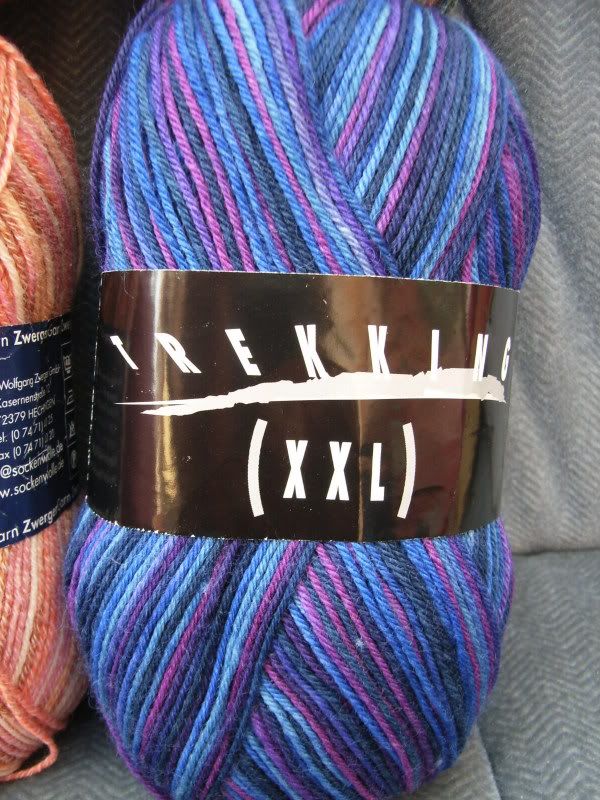 While I was in Abergavenny, I decided to update my wardrobe - black/grey doesn't really cut it when the weather is so warm and summery. I ended up buying 2 cotton/linen skirts (1 brown, 1 pale khaki), a pair of cotton trousers (khaki) and a shirt (very pale khaki). I am being very daring - the skirts are *so* much shorter than I'm used to ..... to mid-calf. *LOL* I usually wear skirts to my ankle, so I consider this to be showing way too much flesh!!
And the warm weather helped me to make up my mind about the sleeves on Sahara - I've decided that I'll get more wear out of it with short sleeves, so I knitted the first one while watching Dr. Who last night. I'll do the second one tonight, with the aim of wearing it to work next week. It'll probably snow now .....!
Today, I've had the house to myself because DH and DS have gone to an American Car Show at Billing Aquadrome, Northampton. They left at the ungodly hour of 6.30 a.m. so I was happily snoring away when they went! ;0)
While they've been away I've managed to get shed-loads of work done - When I got up, I took the dogs for a lovely walk around the lakes, then I did three loads of washing and managed to get it all dry. Next, I waged war on the knee-high dog hair in the house and for once didn't clog up the vacuum - YAY!!. I finally finished the pair of pink/orange socks I started about 2-3 months ago. I watched the comings and goings of a robin to our shed - I think he must be building a nest, going by the amount of twigs in his beak. I'll try to have a sneaky peak next time he leaves. I listened to a CD I bought for £5 at Asda on Friday - Johnny Cash, Lonesome in Black, 40 songs on a double CD - and the majority of them I haven't heard before. :0)
Finally, the thing that cheered me up the most, today I bought some more yarn from Posh Yarn's One Off Sunday sale, even though I promised myself I wouldn't. ;0) After much deliberation and dithering, I bought three lots of Emily yarn - Carnation, Canary and Surf 'n' Turf. Can't wait to see them IRL. Probably won't let on to DH about this little lot, though! *LOL*