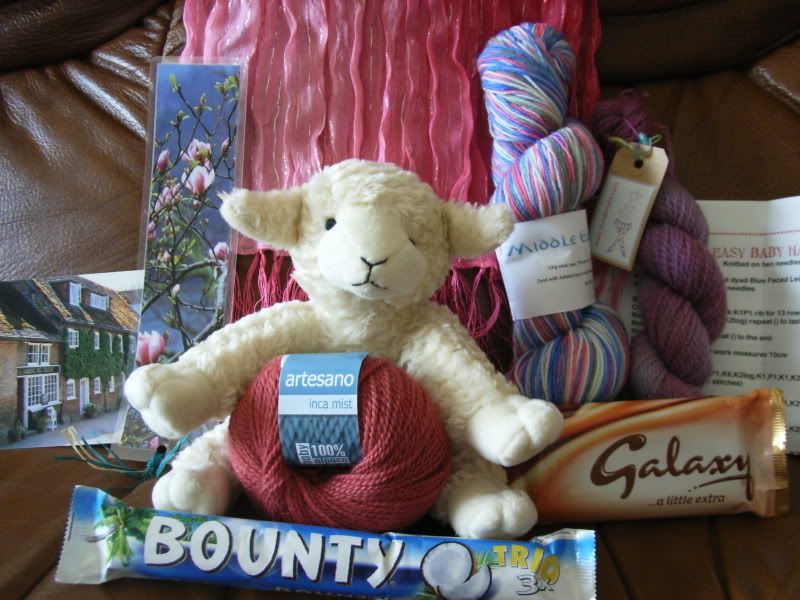 I must say a big thank you to
Kai
, who was my Secret Summer Santa on the Angel Yarns knitting forum and who has just sent me all this luscious loveliness!
In my parcel, which arrived yesterday, I had a gorgeous fringed scarf, a skein of Middle Earth sock yarn ('Beachball'), a skein of handdyed BFL from the
BorderTart
('Puce') and 2 patterns, a ball of Artesano Inca Mist 100% pure baby alpaca ('Cinnamon') which is incredibly soft, a bookmark, a Bergere de France Lamb (aw, sweet!) and 2 bars of chocolate. :0)
I have been really spoiled and am very, very grateful. Thanks again, Kai. :0)
It's been a good week for goodies in the post. Today, I had 2 Patons booklets which I won in the Simply Knitting magazine crossword competition, issue 27. Sizes go up to 4 year old (27" chest) in the Play Days book so I'll be able to knit something for DS and there are some gorgeous girly patterns in Sugar and Spice which will come in very handy for my cousin's daughter for Christmas.
The best thing that arrived today though was this beautiful
Posh Yarn
- it's Dee's new Kid Silk Lace and I was lucky (and quick!) enough to get some in last Sunday's sale. It's the 'Snuggle' colourway and it really took my breath away when I opened the packet, it's so gorgeous IRL. This is destined to become something large and airy from the Victorian Lace Today book - I have no idea yet quite what it will become but I'm just enjoying petting it at the moment! ;0)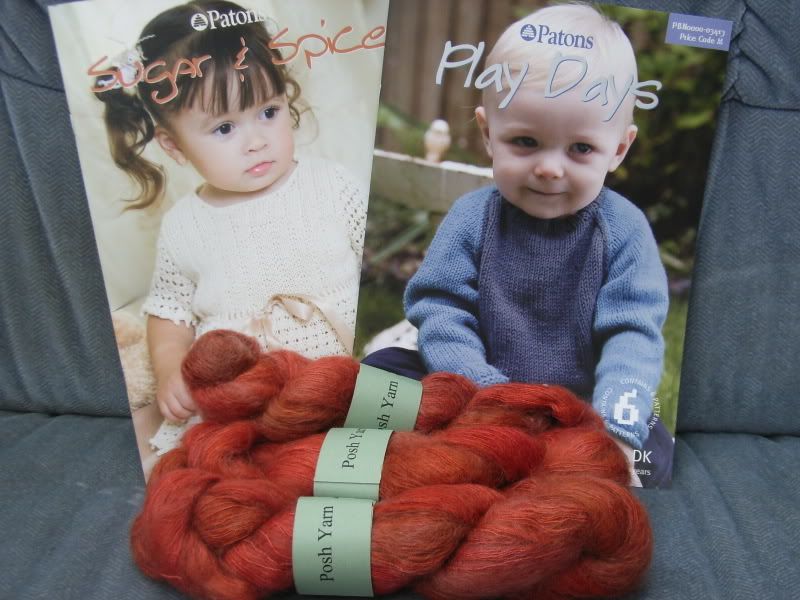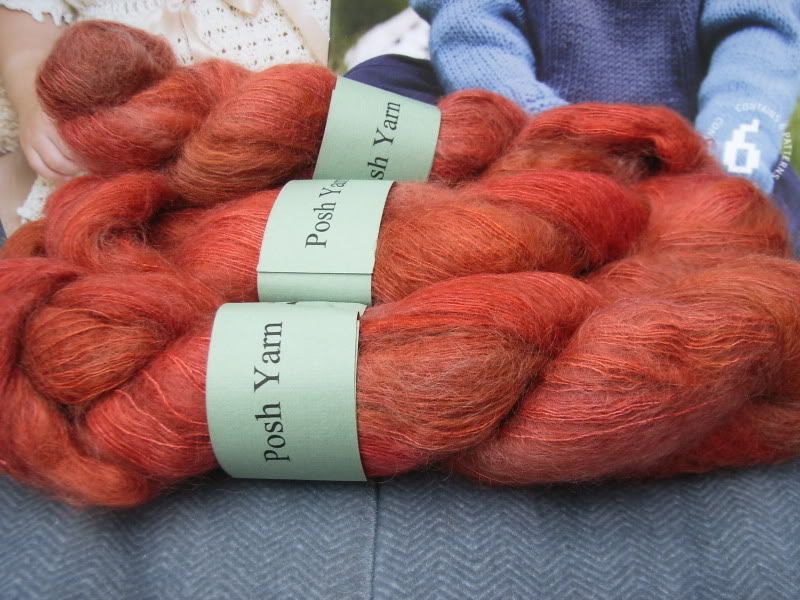 And in the midst of all this mad stash enhancing, you're probably wondering if I've done any knitting?! Well, I'll have a few WIP pics for you tomorrow. :0) I've finished the front of my silk lace bag for The Bag Ladies' group project. We'll be starting the second side this Saturday. I've also been working on a shawl for my cousin who is expecting her second baby at the end of this month. I'm not even halfway through yet but it may still be finished in time.