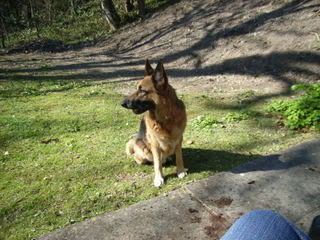 It's my gorgeous pup Buster's birthday today. He's 11 years old and still going strong. Even though his legs are very weak and he drags them a bit around the house, he's always raring to go when we get his wheels out to take him for a walk. And he loves just going for rides in the van - so long as he gets to look out the window. ;0) As he gets older, he's spending more of his time curled up by my side on the settee with his head resting on a pillow. Bless!
Not much knitting news to report. I'm working on a summer top in RYC Cashsoft DK (lush, lush yarn), Sockamania June socks in alpaca and some afghan blocks but no piccies until the weekend, I'm afraid.
Oh, and I've decided to go on a stashalong until Christmas (yes, you heard right!). I've officially reached SABLE proportions now (Stash Acquisition Beyond Life Expectancy). I've got enough sock yarn to knit 38 pairs (that's just ridiculous!) and I'm not even telling you how much other yarn I've got, suffice it to say that it's bursting out of its custom-made cupboard. It's time for drastic measures.
So, if you see me buying yarn - slap me!