At the Colinette course yesterday - Knitting in All Directions -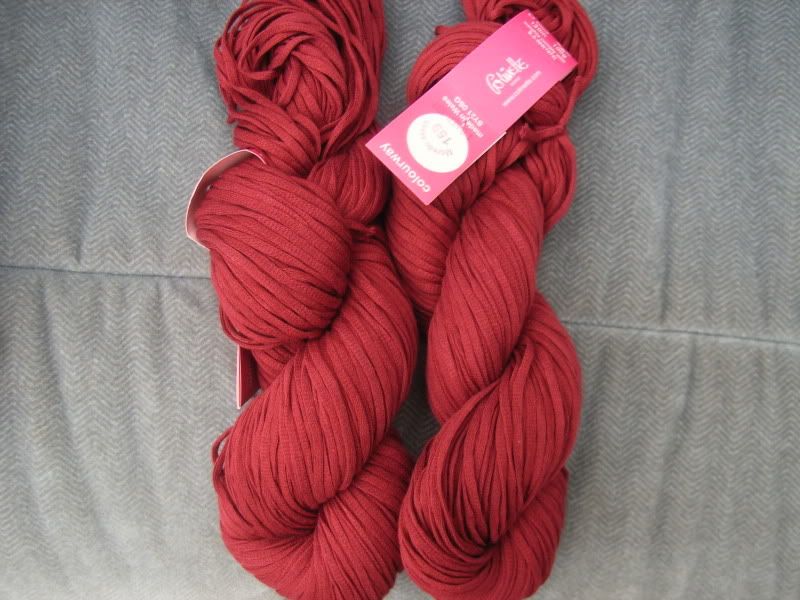 I was feeling quite restrained.
I bought just 7 skeins of Wigwam in 'Morello Mash', a gorgeous deep cherry colour, just enough to knit a textured v-neck sweater.
I then wandered around the shop for a while, having a squish of this yarn and that yarn, feeling quite smug that I could resist the loveliness all around me and that I hadn't gone mad and bought all the lovely skeins of yarn I could see hanging everywhere.
And then I happened to see this -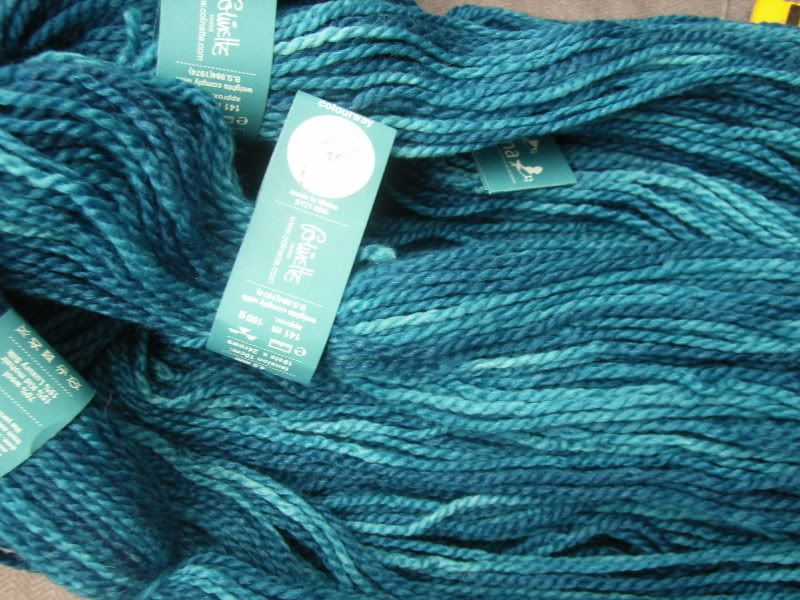 Iona
As the Borg would say "resistance is futile"!!! ;0)
I *had* to have it. It's probably one of the most expensive yarns in the shop and I really don't need another WIP at the moment but I had to have it. It's such a beautiful colour that words fail me when I try to explain just how beautiful it is. It's so gorgeous I'd happily have its babies and cook and clean for it for the rest of my life! Seriously, it's *that* gorgeous!
I quickly gathered up all the skeins on the shelf - well, I didn't want anyone else getting their mitts on it, did I?! ;0)
When the fog of pretty-yarn-frenzy had lifted slightly, I realised it might be a good idea to have a flick through the pattern book that accompanies this yarn to see what I could actually knit with it. There are at least 4 things in the book I want to knit - my family will be pleased that buying Christmas presents for me this year will be a doddle! ;0)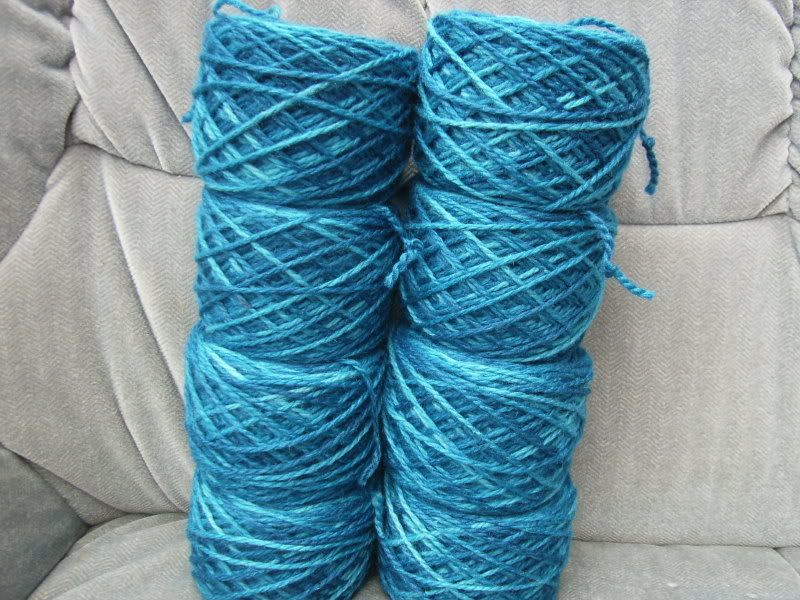 I spent most of last night looking longingly at my lovely blue Iona (and trying not to get any drool on it) and then wound it into cakes this morning ready to get knitting with it tomorrow. I can't wait. :0) I still don't know which design I'm going to knit but that doesn't matter because they're all so pretty. ;0)
A strange thing happened to me on the way home yesterday and I'm now convinced that fate somehow intervened and I was *meant* to buy this yarn.
Let me explain - the colourway of this yarn is 'Salty Dog' - I know, not the prettiest of names! Anyway, as I was driving home after the course yesterday, I happened to be flicking through the radio channels. These days I very rarely listen to the radio in the car as I always have my i-Pod plugged in. However, I'd forgotten to charge my i-Pod so was stuck with the radio. ;0) As I surfed the different channels trying to find something half-decent to listen to, I heard a woman singing a bluesy sort of song, maybe from the 1940s (ish). But the spookiest thing was that this song was called - "I'm a Salty Dog".
What are the chances of that?! Spooky indeed! I'm now convinced that I was *meant* to buy this yarn. ;0)
Oh, I'd better tell you about the course I went on! ;0) It was called Knitting in All Directions and was excellent. I met up with
Joy
and it was lovely to have such good company all day. :0)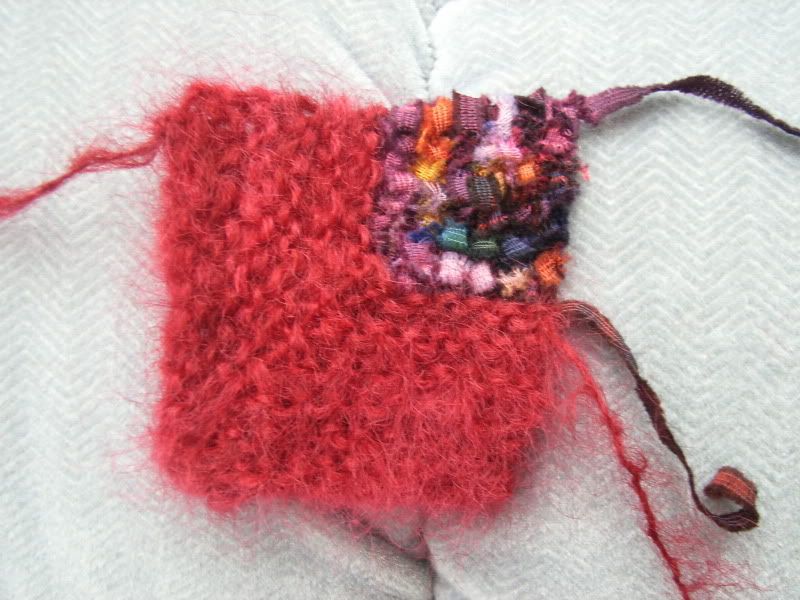 Colinette herself was teaching the course and started us off knitting mitred squares. We knit 2 of these and then moved on to mitred rectangles -
In this photo (in the darker yarn) I have 2 mitred squares on the bottom and a rectangle on top. To the left (in the lighter yarn) we then picked up stitches along the edge and knitted a garter stitch piece. I was amazed at how this worked. Until I tried it, I just couldn't see how it would turn out.
We then moved on to equilateral triangles -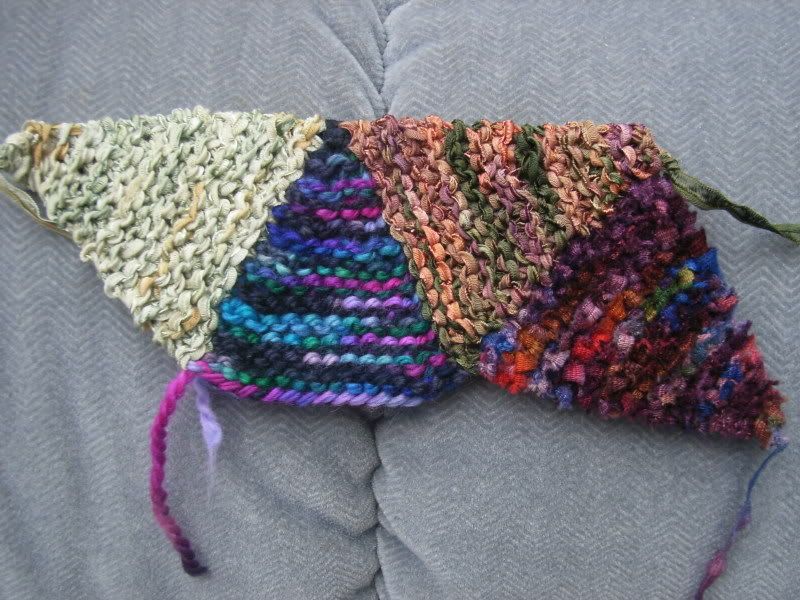 here are 4 small triangles. Next, you could pick up enough stitches to make a larger triangle along one edge and just keep going until you get the effect you want.
Finally, she showed us how to make shells. These would make a really pretty border - unfortunately, the yarn I chose doesn't really show up the pattern but you get the general idea. ;0)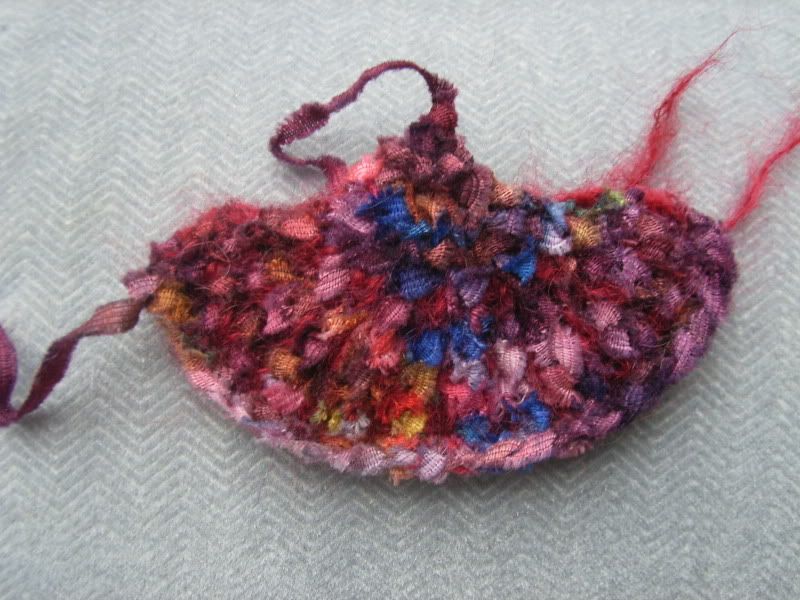 I had such a good day and would definitely recommend Colinette's courses.
I've come away with loads of ideas of how to use up all my spare yarn by knitting cushion covers and throws - in all directions!