Yup, even though I've got about 7 WIPs on the go at the moment, last week I was sucked into the Hemlock-along after seeing it mentioned on the Angel Yarns
forum
. The original is on Brooklyn Tweed's blog
here
- it's gorgeous. :0) Anyway, I ordered my yarn from
Kemps Wool Shop
very very late on Friday, 7th September and it arrived first thing Monday, 10th September. This is the first time I've ordered from them but it certainly won't be the last - I am VERY impressed with their service. :0) I went for the 400g Sirdar Bonus Aran with Wool (80% acrylic, 20% wool) in Buttermilk. I wanted something cheap and cheerful (this is £3.99 per 400g ball) that I can throw into the washing machine. Even though it's mostly acrylic, the yarn feels gorgeous to knit with and I'm already lining up a few other projects to use it with. ;0) I used 5mm KnitPicks Options needles and changed cord length once.
I started knitting last Monday evening. I did roughly 2 hours per night during the week and 4 hours yesterday and today - a total of 18 hours from start to finish. I finished on row 101 - I was tempted to make it slightly larger (maybe go to row 121) but to be honest I was getting a bit fed up by this time! There were approx. 500-odd stitches on the needles at this point and just knitting one round was taking forever! ;0)
At 11.45 a.m. today, I decided to call it a day and start on the border. This is how it looked as I started it -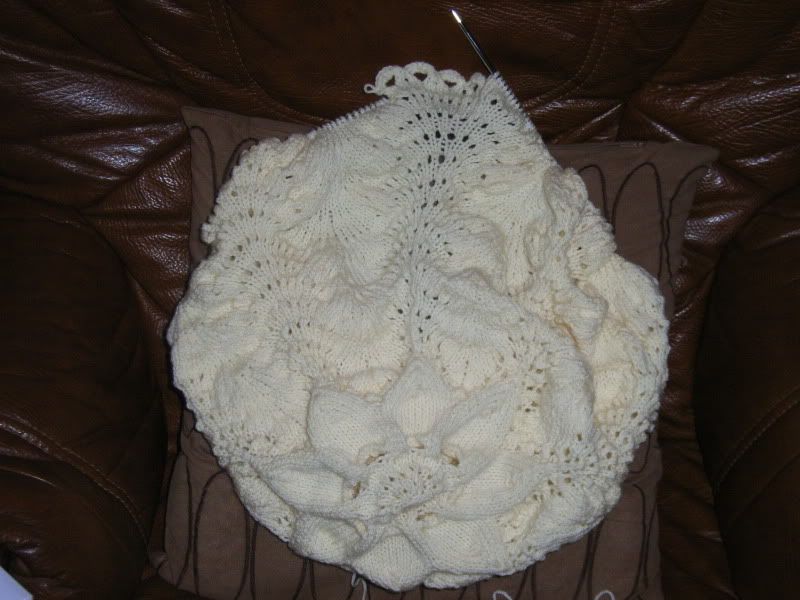 I love the way the border turned out. It really fits in well with the overall design. Even though some knitters have dubbed this the "never-ending border", I must admit that I quite enjoyed the monotony of it. ;0) It was quite therapeutic - although it did take exactly 2 hours to knit. I finished at exactly 1.45 p.m..
After finishing the border, my Hemlock looked a bit of a blobby mess but I was quite confident that blocking would reveal a completely different piece of knitting.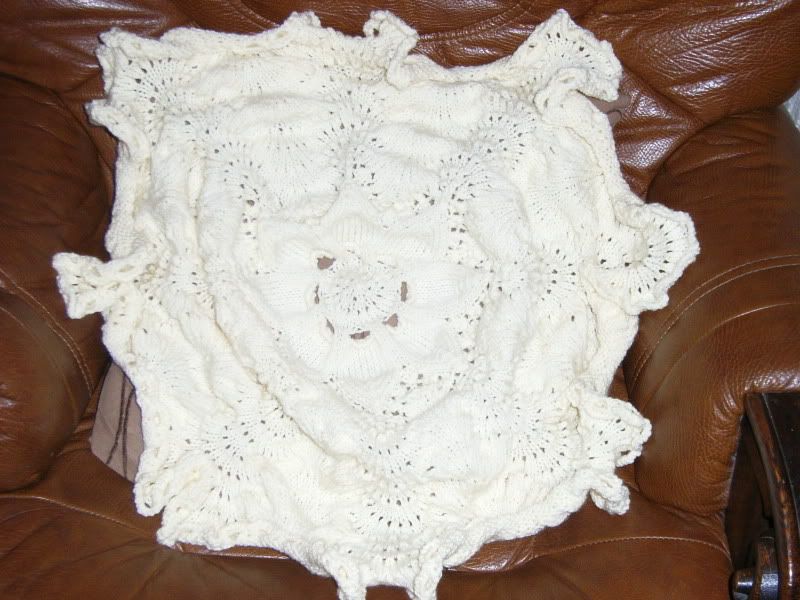 Prior to blocking, I soaked the knitting in the sink for half an hour or so and then threw it in the washing maching for a quick spin. It was practically dry when it came out.
Half an hour later (and I lost count of how many pins!), this is what it looked like. I have to admit, I'm rather pleased with it. It measures about 40 inches in diameter. I would have liked it slightly larger but know I just didn't have the staying power for those last 20-odd rows! ;0)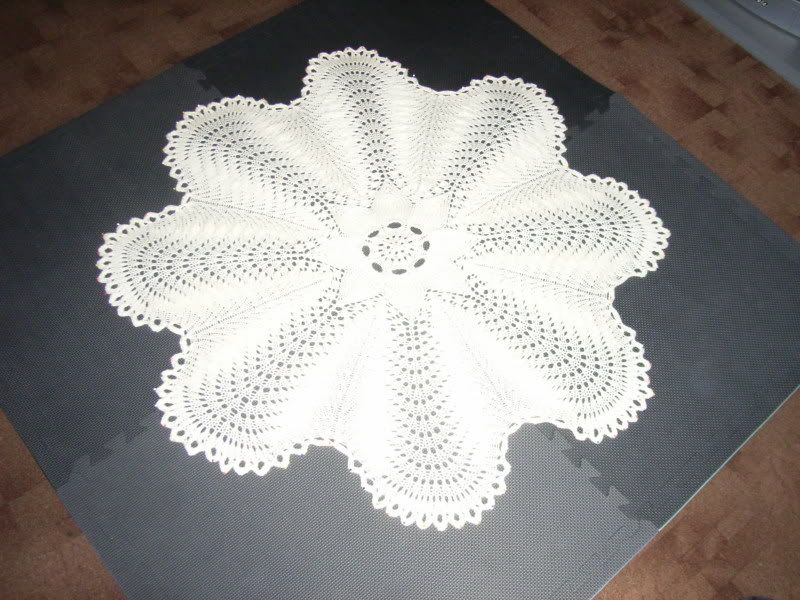 And this is perfectly adequate as a lap blanket, which after all is its ultimate purpose.
I can see me knitting more of these, probably as gifts, as they're so quick and easy to make and yet look so effective when finished.