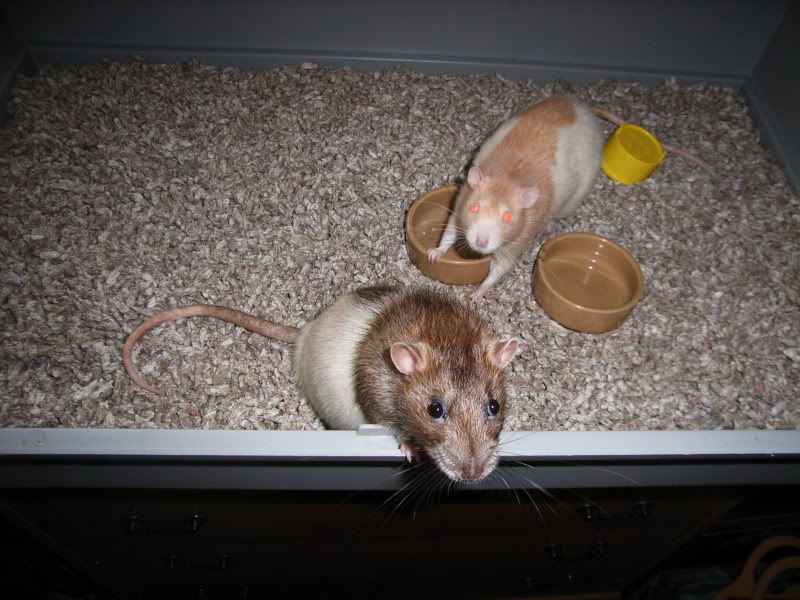 Robbie (the brown rat, in the front on the picture) died on Saturday, 27th October, while we were away on holiday in West Wales. He was about 2 years and 4 months old. It's such a shame that rats don't live for very long - most live to 2 and half or 3 years old - because they are such intelligent and friendly animals. Robbie was really affectionate and loved cuddling up under my hair.
I'd taken him to the vet the day before we left because he hadn't been well - he had breathing problems which the vet thought was maybe a tumour on his lungs secondary to a tumour he had removed in April. He was on antibiotics and Vitamin B and seemed to perk up a bit. He was fine during the car journey and on Friday when we arrived at the cottage but he went downhill quickly on Saturday afternoon. His breathing was laboured and he was very listless.
We were debating whether to ring a local vets in Aberaeron (to have him PTS - never an easy decision) when I went to have another check on him. He passed away peacefully just as I was smoothing him. DS (5) was devastated as it's the first time he's encountered anything dying. Toffee (the rat with the pink eyes) was depressed for the rest of holiday and was looking everywhere for Robbie.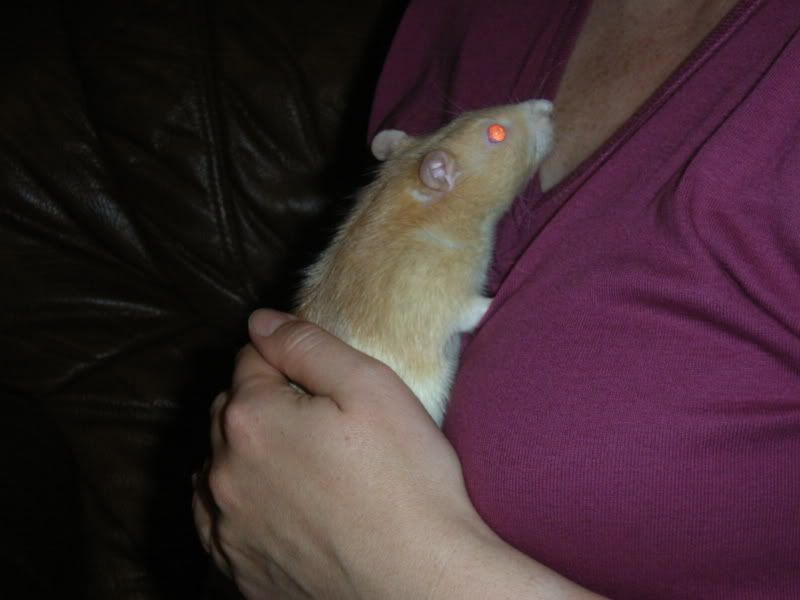 Rats are social animals and are best kept in pairs (or more) of the same sex. Toffee (in the photo to the left, aged about 2) was definitely suffering on his own so we decided to get another rat to keep him company when we got home on the Monday, after burying Robbie in the back garden.
We went to the local pet shop, who had a single 10 week old male rat available for adoption from a litter which had been brought in 2 weeks before. He had been on his own in a cage for about a week and was very skittish. However, he took to Toffee straight away and they've bonded really well. Toffee has perked up no end.
So this is Nibble (named by DS), the newest addition to the family, who is now about 11 weeks old. He's getting easier to handle by the day and is definitely less skittish than when he first arrived.
And yes, I really do have a pair of pyjama bottoms with pink cup cakes on!!
On the knitting front, I managed to make this pair of socks for DS while we were away. The yarn is Opal Prototype which I bought from Ebay a while ago, knit on 2 x 2.5mm Addi Turbo circs. DS (age 5) is a size 10-11 shoe so these were nice and quick to knit up and only took about 36g of yarn, so there's plenty of yarn left over to knit another pair for me. ;0)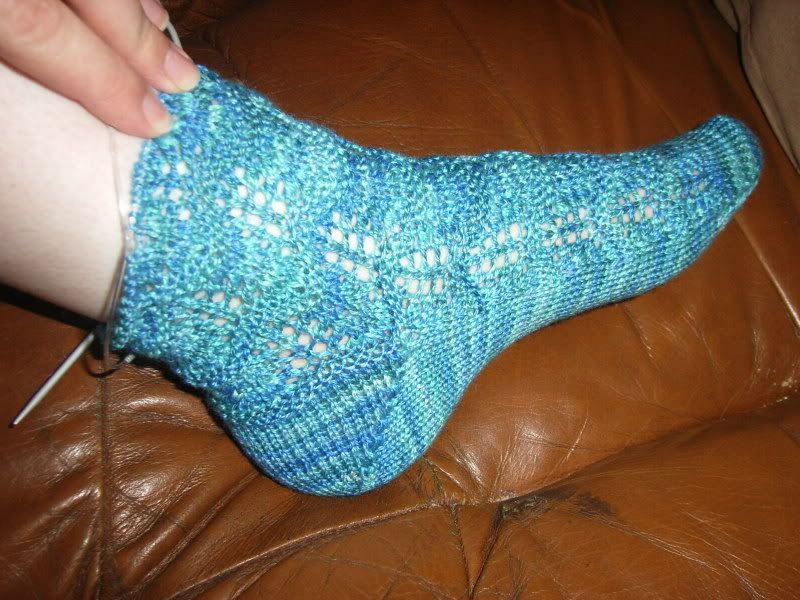 Then last Friday, I started these - the Sockamania (see link in RH side panel) November pattern - Ripples. As soon as I had the pattern via e-mail on Friday evening, I cast on. I had the perfect yarn in my stash - Fleece Artist Sea Wool sock yarn in the Marine colourway which I had for my birthday in July.
The pattern is very easy and quick to knit and looks really effective. I'm hoping to finish sock #1 tomorrow. I altered the pattern slightly to knit these toe up - I've been addicted to toe up ever since I knitted Anni's Falling in Love pattern back in February. I haven't made a top-down sock since!