Yes, I'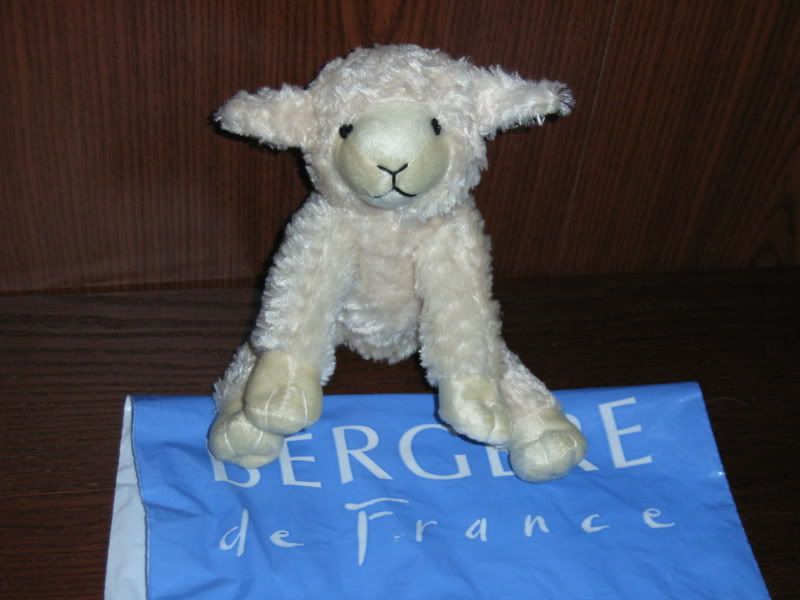 ve won another competition. :0) My luck has been *so* good lately - if only I could win the lottery!
At the beginning of November, I won 2 tickets to the craft show in Cardiff. Then on Monday this little chap arrived in a blue Bergere de France bag. Now, I can *vaguely* remember entering a competition (in Knitting magazine, I think) where I had to give the translation of Bergere and say what 'lamb' was in French. The second prize was a BdeF lamb. I won! YAY!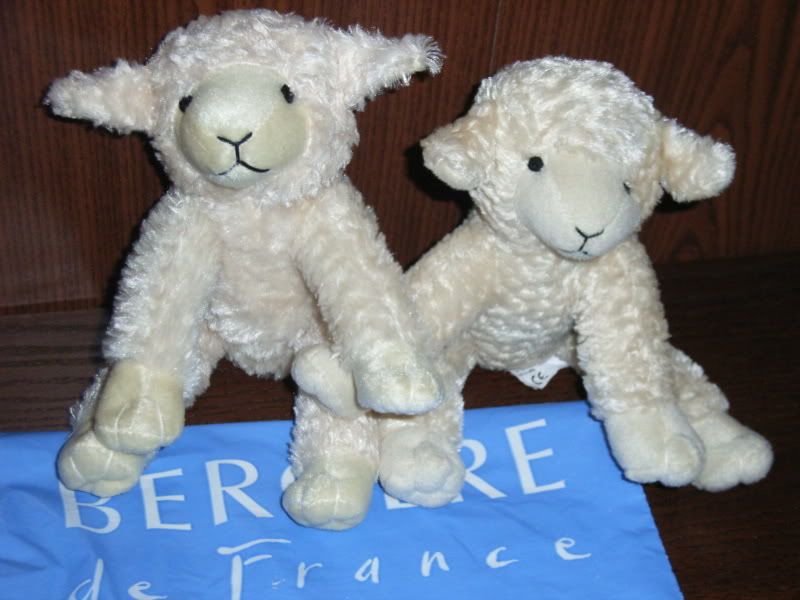 Now my first BdeF lamby has a friend - so no need for DS and me to fight over him any more. I've now got my own!! ;0) *LOL*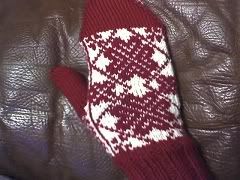 And on the knitting front, I'm obsessed with fair isle at the moment. I never used to like it but recently thought if I can do lace, cables and socks, then I can do fair isle. *LOL*
So here is my first "proper" go at fair isle. There is a second mitten but I forgot to take a photo before I sent it off (it's for a swap). Please excuse if this photo is poor quality - it was taken on my mobile phone.
Anyway, this is the Corazon Mitten from Knitty. I used 3.25mm and 3.5mm Knit Picks circulars - wonderful little things :0) - and RYC Cashsoft DK (from stash - how good am I?!!). These mittens almost didn't get posted - they fit me perfectly - but seeing as how I've got (lots) more Cashsoft in my stash, I've decided I will knit myself a pair in black and red. They are so soft and very warm, just the thing in this weater - it was minus 2 here last night when we went shopping :0( .
I was surprised at how easy this pattern is and I managed to strand the yarn without any puckering of the fabric. Each mitten took 2 days to knit - probably a maximum of 5 hours per day - so hopefully this time next week I'll be wearing my own. :0)
I'll be back tomorrow with some FO pics - dog coats and my mint choc chip scarf ...........