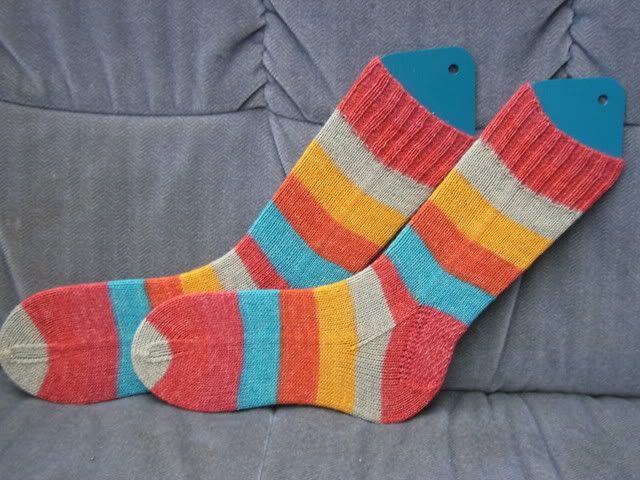 New Year's Eve saw me frantically trying to finish these socks, which I finally managed to do at 10.30 p.m.. They are knitted in Opal Feelings #1702 on 2.5 mm circs and are possibly the brightest socks I've made so far. ;)
So that leaves me with 3 WIPs to take into 2007 (an improvement on the 15 I had during 2006!) - a dog sweater for Faith in Spain, socks and a shawl for my cousin who's due to have her second baby in June.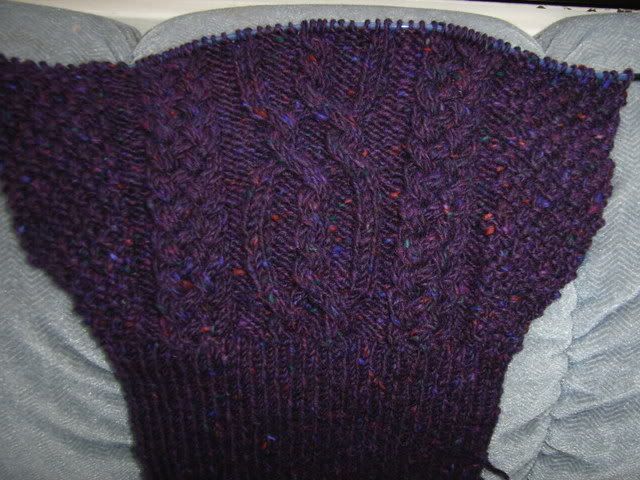 This is the second dog sweater I'm knitting for Faith in Spain. She bought the yarn from an e-bay seller based in Ireland but unfortunately I can't remember the name. The yarn is lovely and tweedy and knits up somewhere between DK and Aran on 4 mm needles. I took the patterns from the Harmony Guide Ultimate Sourcebook of Knitting and Crochet Stitches. From the outside in we've got Double Moss Stitch, then Knotted Cable and Criss-Cross Cable with Twists in the centre. I'm hoping to get this finished by next weekend.
I've had these socks on the go for a month or so now but they *will* be finished by the end of this month. ;) I've finished the first one and just cast on for the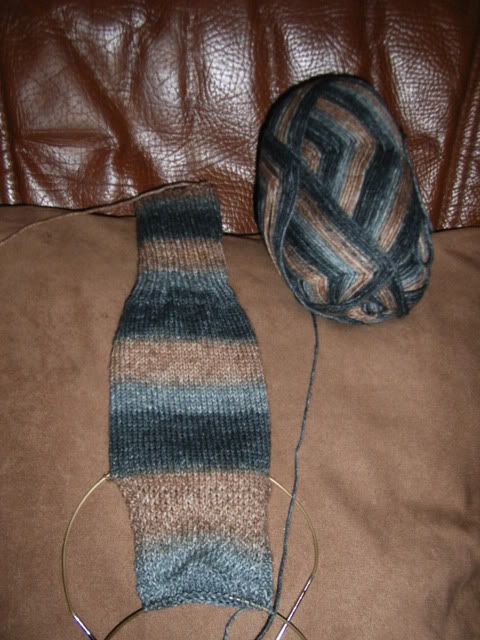 second. They are knitted in Schoeller & Stahl Fortissima Colori 1000 Socka Color on 2.5 mm circs. The yarn feels much softer to knit with than the Opal I've just been using.
And finally, I'm knitting the Elisha Shawl from Paton's Newborn Collection. The yarn suggested in the book is Paton's Fairytale 4 ply but I couldn't get hold of any of that so I'm using Sirdar Snuggly 4 ply on 4mm needles. It's knit in the round and at the moment it just looks like a white blob (!) but once it's finished and blocked, I'm hoping it'll look like the picture in the book.
I've got plenty of time to finish it as my cousin isn't due to have her baby until June. BUT towards the end I'll have 704 sts OTN so it could turn out to be a bigger job than I anticipated!