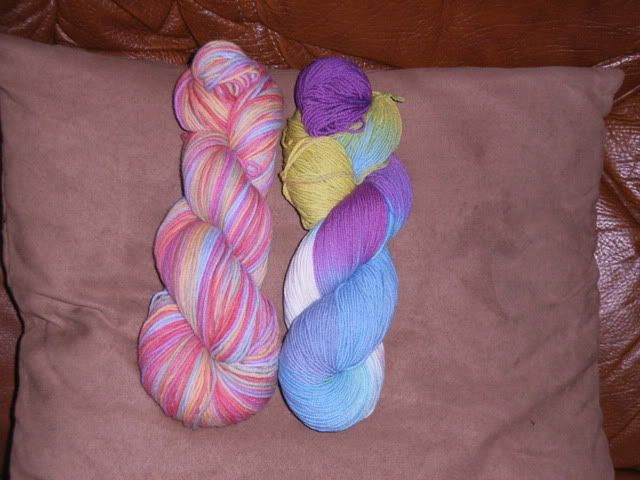 I was merrily working through my WIPs (only 3 at the moment!) determined not to start any new projects until I've finished 2 of them. I was doing really well ..... or so I thought until I came home from work today.
Two packages arrived in the post from Posh Yarn - the skein on the left is Emily sock yarn (colourway - Sweetshop), bought in the last OOW (one off Wednesday) in December. It's 80% lambswool, 10% angora and 10% cashmere and has 400 yds to 100g.
The skein on the right is the January Sock Club yarn (colourway - Twinkle). It's 70% merino and 30% cashmere.
I had a fondle and a drool and put the skeins to one side while I continued working on one of my WIPs (a lacy baby cardigan), thinking I'd use the yarn another day. But I kept looking over at the Posh yarn, thinking what gorgeous colours they both were, wondering what I'd make, etc.
I knew I was doomed when, three quarters of the way through the second sleeve of the cardigan, I noticed my stitch count was out and realised I should have increased about 22 rows previously. ARRGH! So I frogged it back to the cuff and put it away. The baby's not due till June anyway. Plenty of time to get it finished LOL!
*Sigh* You just can't give in to the pull of this Posh yarn. I wound the Emily yarn into a ball and it's the softest, most luscious yarn I've ever felt (and I thought the Lucia sock yarn was soft). I just can't wait to get knitting with it and get those lovely soft socks on my little tootsies!