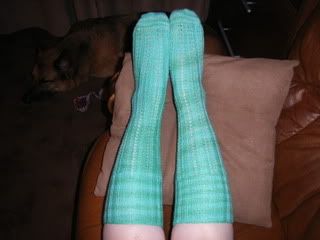 I finally finished my knee highs today and love them. :-) They are knit on 2x2.5mm circs using Fyberspates sock yarn in the Ocean Forest colourway. I used the double eyelet rib pattern from page 168 of the Ultimate Sourcebook of Knitting and Crochet Stitches (A Harmony Guide), altered slightly to knit in the round. I think I used almost all 425m of the 100g skein - I was left with a bit of yarn the size of a pea ;-)
I enjoyed knitting with this yarn so much that I joined Fyberspates sock club (
http://www.fyberspates.co.uk/index.php?cPath=56_128&osCsid=49b57b518d4f5eba92750d96ed60b86b
) and my club yarn arrived in the post today. It's simply gorgeous.
It's 90% alpaca and 10% nylon and is lovely, soft and ever so slightly fluffy. I love the colour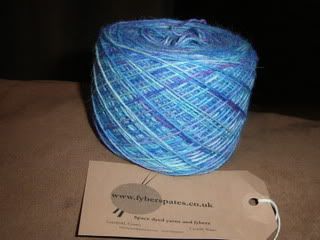 and think I'm going to make a pair of socks with the baby cable rib from Sensational Knitted Socks. Can't wait to see what next month's club yarn will be .....