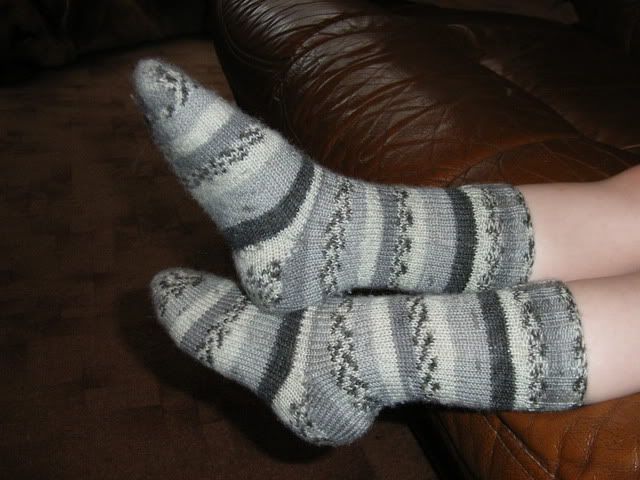 These socks were knitted for my almost-5-year-old son. He picked the yarn himself at our LYS. It's Sirdar Town and Country (#0102 I think) and is a mixture of greys. It was a little boring to knit with, sort of like watching black and white TV, if you know what I mean. ;-) But he loves them and couldn't wait to wear them to school on Tuesday to show everyone. Apparently, the day before, his teacher showed everyone the socks he was wearing which I'd knitted for him (stripey ones) and he was well chuffed!
And these really knit up quickly - I made one sock last Sunday and the other on Monday, so they probably took about 8 hours in total.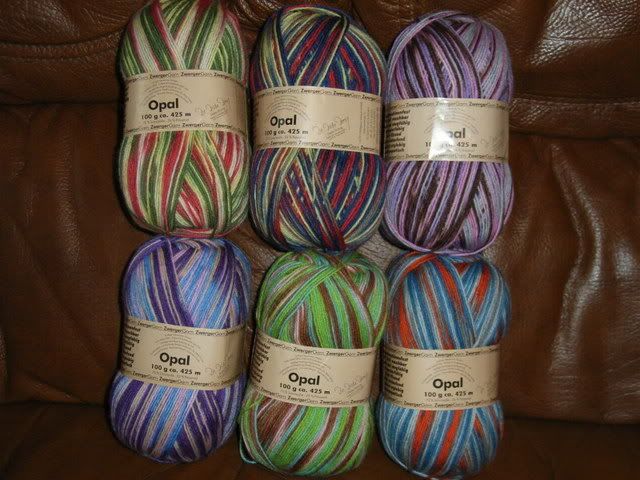 And this lovely lot came in the post today, from S.E.X. I had on Ebay last Friday. ;-) I bought this Opal prototype yarn from beautiful-yarn-and-socks, a German seller on Ebay. This yarn is a new development by Opal apparently so I have no idea how it will knit up (stripey or otherwise) but I can't wait to find out. :0) And the colours are luscious IRL, very vibrant. A nice change after the monochromatic madness that were the T&C socks!