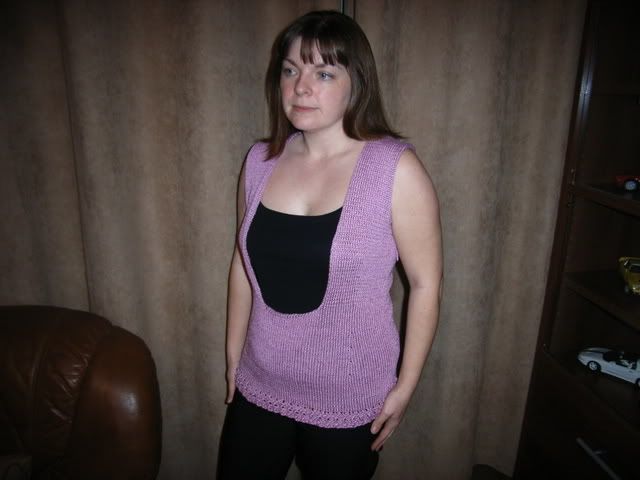 Well, it's an awful photo ;-) but this is the progress I've made so far on Stitch Diva's Sahara. I subbed with Sirdar Just Bamboo, on 5mm needles. It's a lovely yarn to knit with, has great drape and a lovely sheen. The colour is more dusky pink IRL.
I was unsure about the 3 inches of negative ease in this pattern, as I really don't like garments that cling but wasn't sure if it would look the same if I went up a size. Anyway, I bit the bullet and went up one size larger than usual and the fit is perfect. I must admit, I didn't try it on as I went because it just seemed like too much faff taking all the stitches off the circ, etc.
I think I'll do the neck border next - DH thought it looked a bit "gappy". Men - sheesh!!
And I'm still not sure whether to do long sleeves or short. Originally I was going to do long but I live in hopes of the weather warming up some day soon and think I may get more wear out of it with short sleeves. Maybe by the time I've finished the neck border I'll have made up my mind .........