I can't believe it's almost 2 weeks since I last blogged - the time has just flown by. However, it does mean that I have a few FO and WIP pics to show you.
I finished these 2 dog coats in December but didn't around to sewing on the buttons until yesterday. The patterns are from
K9 Knitters
and the coats will be going to the
Many Tears Rescue
in Llanelli, South Wales. This is the rescue where we had Lexi, our GSD, from.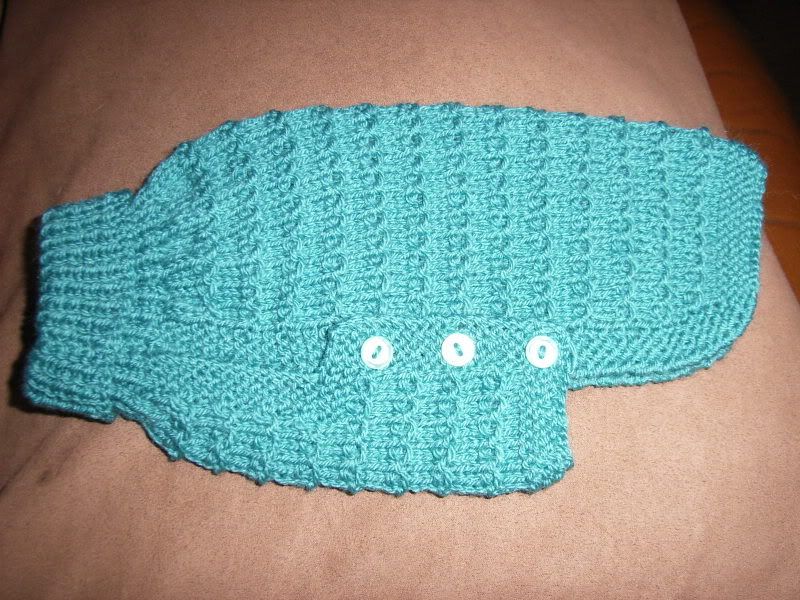 These coats are small and medium-sized and are made from 100g of Sirdar Countrystyle DK on 4mm needles.
I made this coat yesterday - pattern again from K9 Knitters - this time using 300g of Sirdar Bonus Chunky. It's quite a large coat and would probably fit a Labrador or small GSD. The others are quite small - Yorkie sized probably. ;0) My knitting group - The Bag Ladies - have agreed to knit some more as Many Tears are desperate for knitted coats for their rescue dogs at the moment.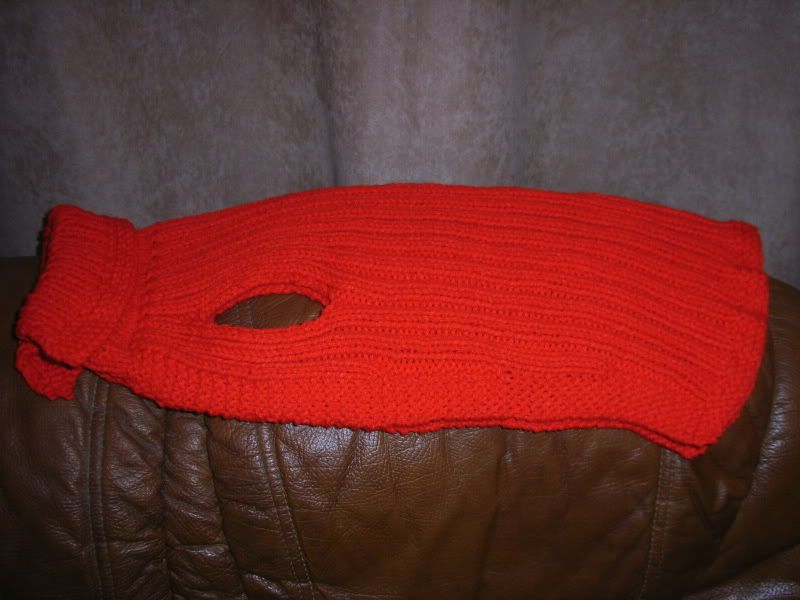 This is my first FO of 2008 - a PSP sock for a friend of DH. It's made with 10g of Opal Rainforest Tiger (4 ply) using 2.5 mm Knit Picks circs and I made the pattern up as I went along.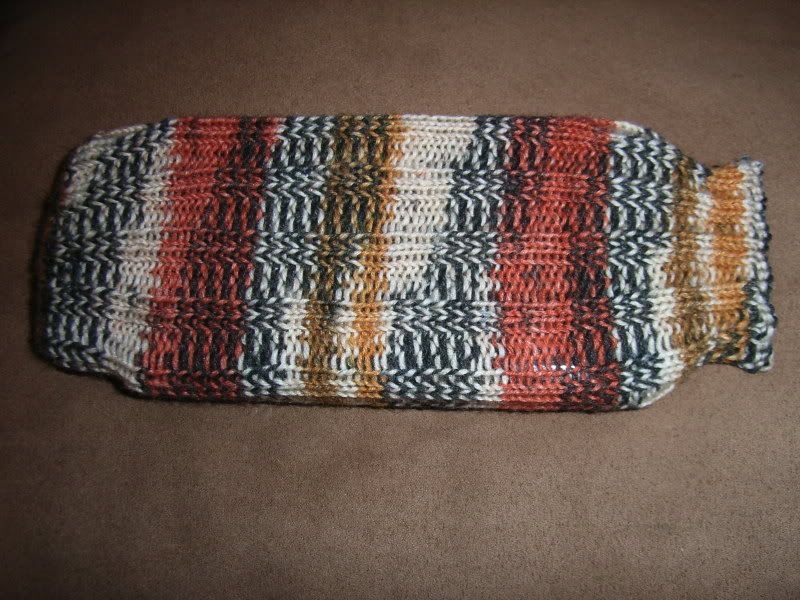 The second FO of 2008 is another multi-directional scarf (I gave my mint-choc-chip one away as a Christmas gift).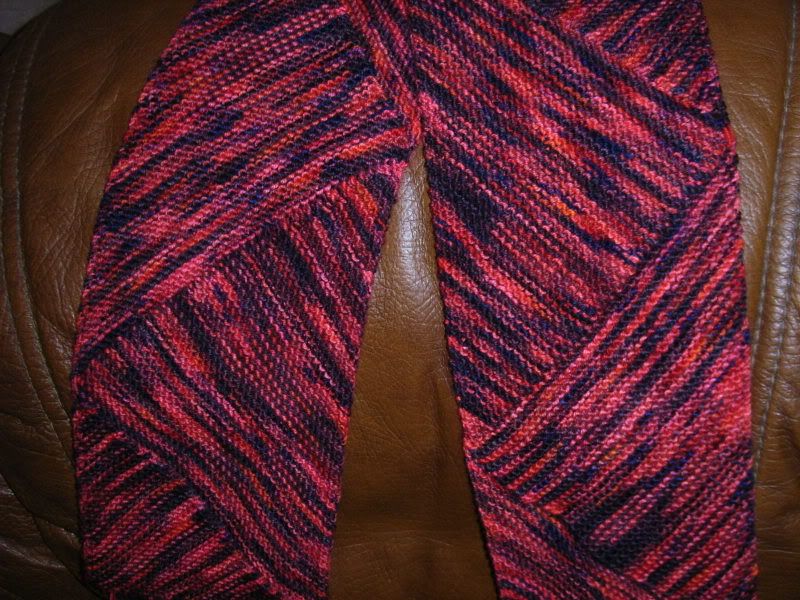 This one is made with 1 skein of Colinette Jitterbug sock yarn in the Tapis colourway using 3.5 mm Knit Picks needles.
I finished these socks yesterday - Anni's January
Sockamania
pattern.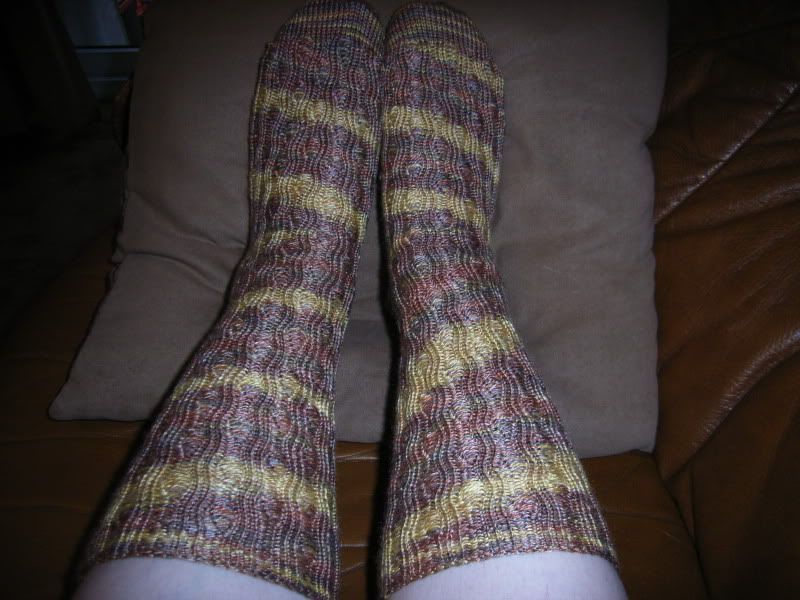 It's a lovely drop-stitch rib pattern and knit up really quickly. I used Fyberspate's merino/tencel sock yarn in the Rusty Spoon colourway which was given to me as a gift in a Christmas swap on the Knitting Haven forum.
I love the colours and the sheen on this yarn. I think it really goes well with the pattern. I knit these toe up on 2 x 2.5mm Knit Picks Options circs and did 60 rows for the foot and 96 rows for the leg - I like a nice long sock. ;0)
Initially, I had promised these to my aunty but I loved them so much I couldn't part with them. *LOL* However, to ease my guilty conscience ;0) I'm going to cast on a pair of socks for my aunty later today - using this yarn .....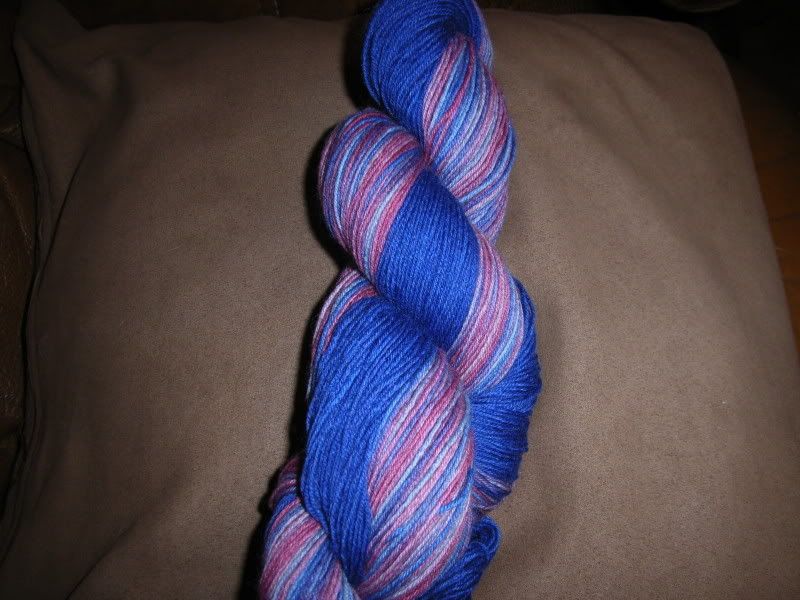 Soul Mates "Arm in Arm" from
The Yarn Yard
. It's 100g of variegated and 30g of the solid blue. I'll use the solid for the toes, heels and cuffs.
I also picked up this colourway for myself - Naughty but Nice - I love it. :0)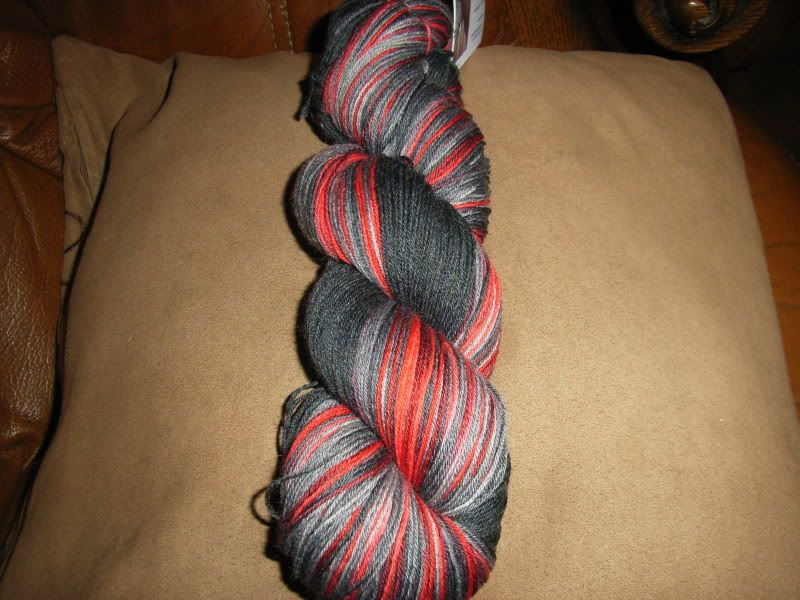 Finally, I'm making myself the
Cascading Leaves
shawl by Vicki Mikulak.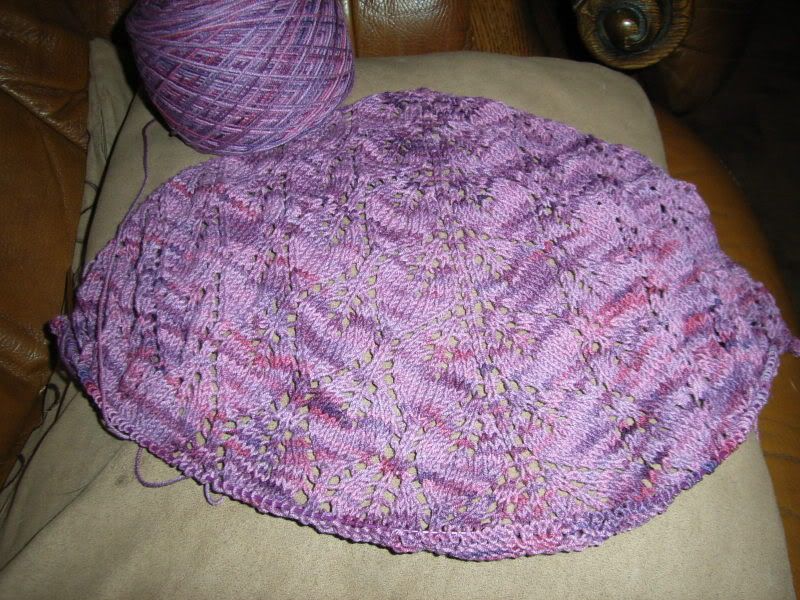 I managed to get my mitts on a 200g ball of Lucia in the Deluxe colourway (lovely shades of purple) in
Posh Yarn's
new year sale and thought this pattern would be ideal. I love knitting with Lucia, it's such a beautiful yarn.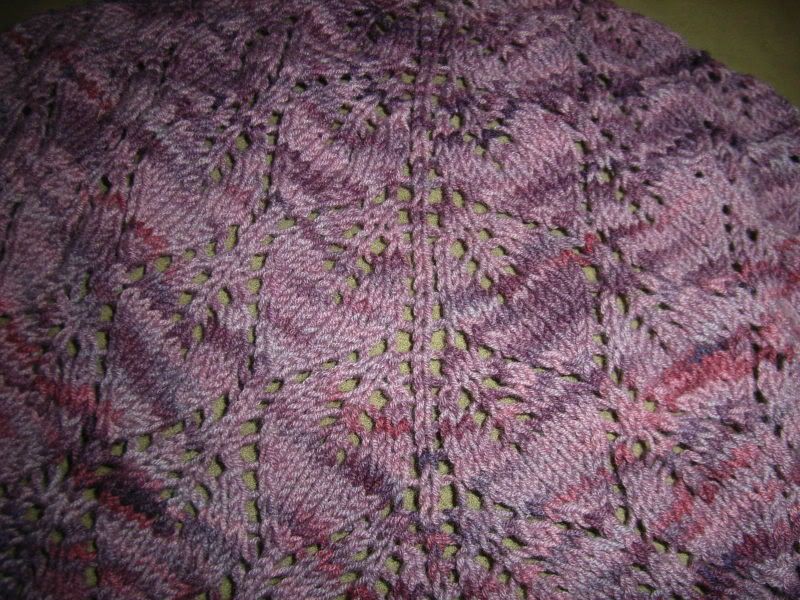 I'm using 4mm Knit Picks Options circs and am probably about halfway through. I'm hoping to make the shawl slightly larger than the pattern as I think I've got plenty of yarn.
Anyway, time to go and wind some yarn ready to make my aunty's socks. ;0)