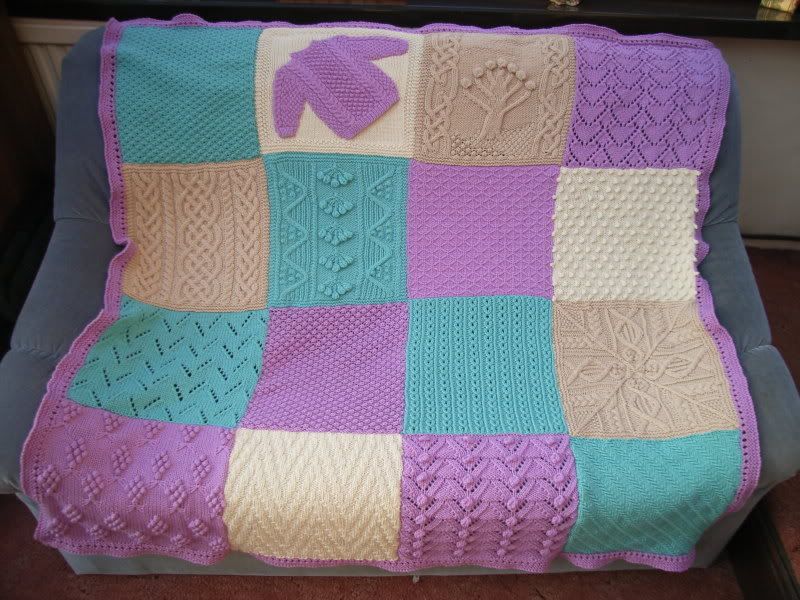 I finished my Aunty's afghan yesterday and I'm really pleased with it. :0) It's going to be so difficult to give it away - ;0) - but I know she'll appreciate the work that's gone into it. I just hope she hasn't redecorated her bedroom in the past few days as it matches the colours perfectly!
I used about 9 balls of Cascade 220 100% wool for the squares and 1 ball for the border, with 5mm KnitPicks Options needles. Four of the squares came from the Great American Aran Afghan book, the rest came from stitch dictionaries.
I've been fed up recently with DS's hats not covering his ears so I searched on Ravelry last night for a pattern using Cascade 220 (I have rather a lot of it!) and found this pattern -
the Norwegian Star Earflap hat
- so made one for DS this morning. It took 3 and a half hours from start to finish! It was a very clear pattern and easy to follow. I made a child's size 21 and 1/3 inch hat on 5mm needles.
I fancy making one for myself next, but using different colours. I love Cascade 220 yarn because it has such good stitch definition. :0)
And finally the WIPs.
DH's friend wanted a sock for his PSP - the one he bought from Argos was very loose and his PSP kept falling out so he asked if I could make him a nice snug-fitting one.
I dug out some left-over Opal Tiger sock yarn, cast on 44 stitches and am now about halfway through. It looks *way* too small at the moment but stretches quite a bit, and fits nice and snugly so I think he should be happy with it.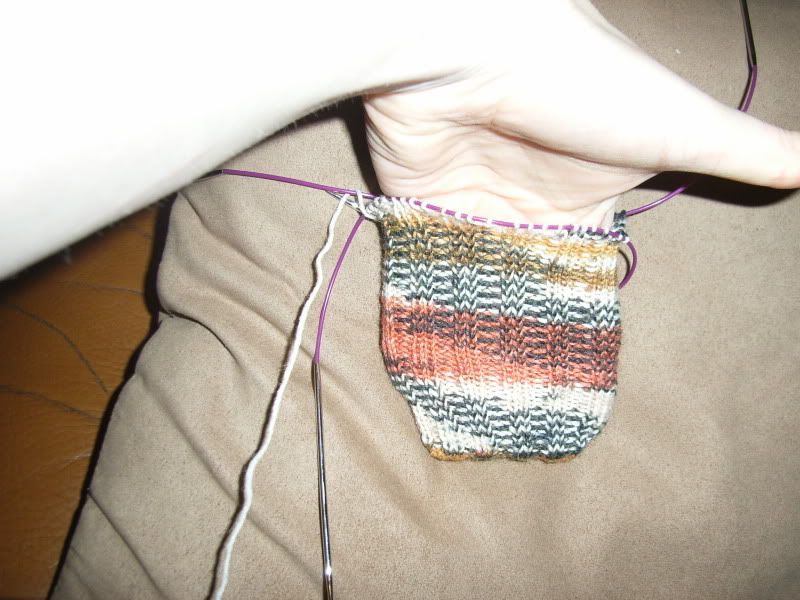 And this is the second instalment of the HipKnits Project Club. These are the Moose Ridge Socks by Chrissy Gardiner and are a really enjoyable knit. I'm using 2.5 mm needles and 100% cashmere HipKnits sock yarn.