This week, I have been well and truly spoiled by two great swap partners. :0)
First of all, last Wednesday I received my bag from Fairynuff (aka Sue) in the Angel Yarns September Swap.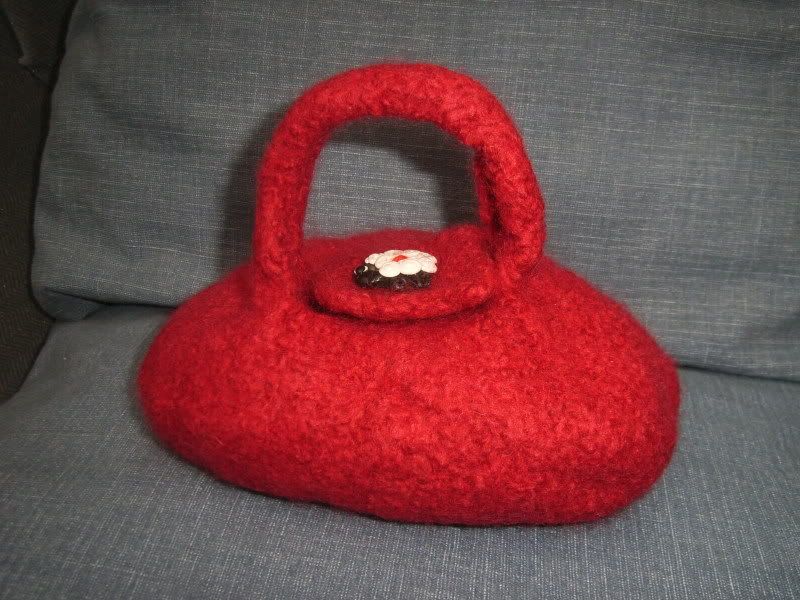 It's a felted bag in a lovely deep red colour which is a fab shape
and just look at this cute button - made by
Jominx
. How sweet is that?!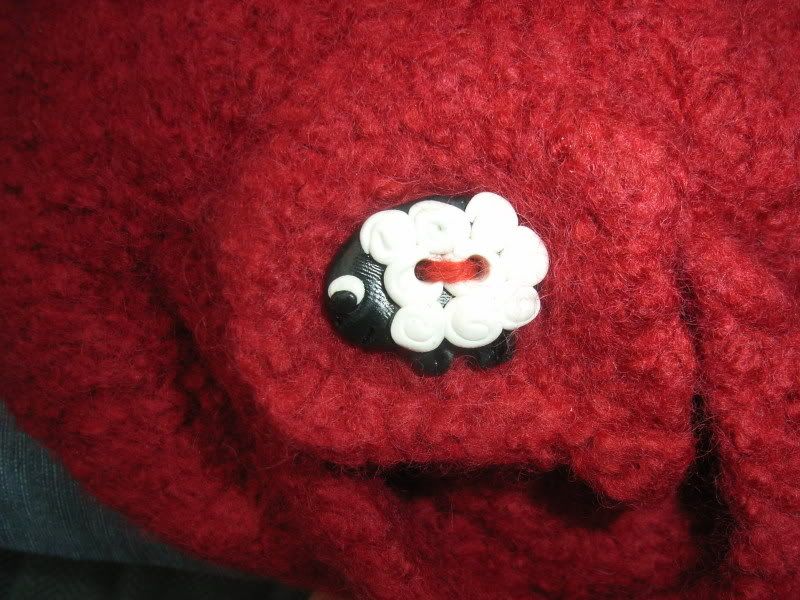 Also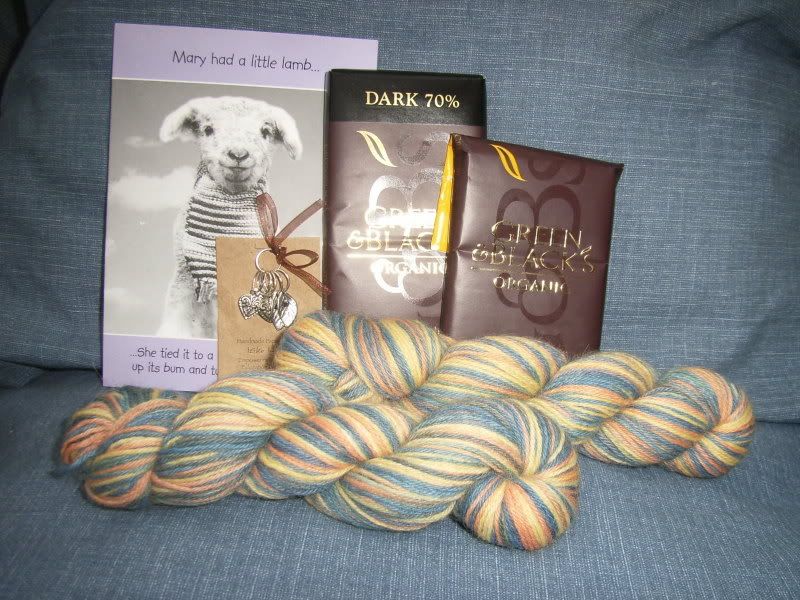 included in the parcel were 2 bars of Green and Black's chocolate (de-lish!), two skeins of Natural Dye Studio alpaca/merino yarn in Tangerine Ocean (I love alpaca) and the most beautiful silver stitch markers.
Which I think are almost too nice to use as stitch markers - I'm quite tempted to turn them into a charm bracelet. :0)
And then yesterday (Friday), I received a very large box which was postmarked "The Netherlands". My clue, on a postcard of Spaubeek, was 'feline knitting style' and my swap partner was
Continental Cat
(aka Jeannet).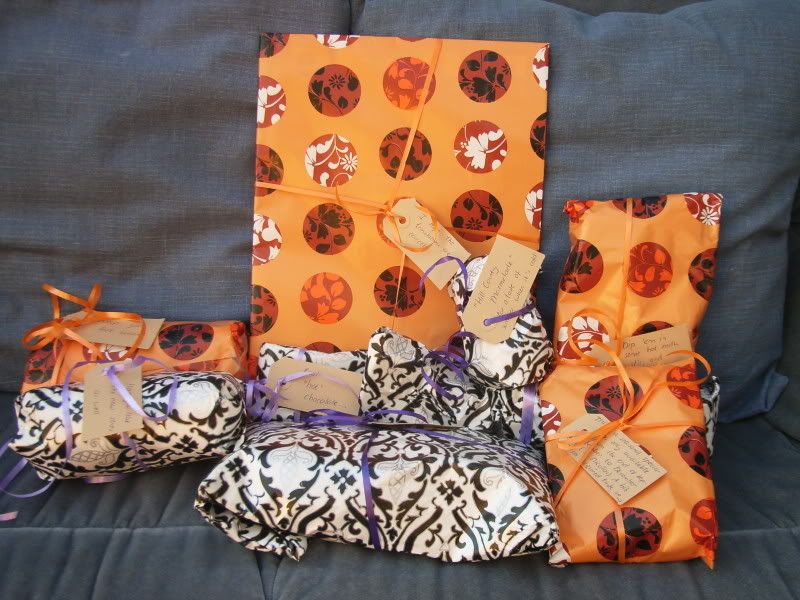 These are the beautifully wrapped presents I found inside.
And after frantically ripping off the wrapping ;0) this is what I found -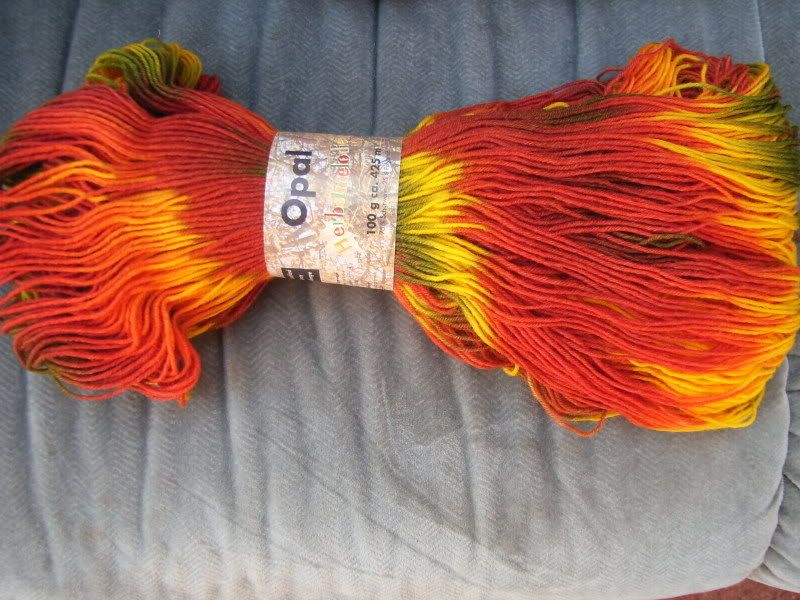 A skein of Opal 'Autumn Song' sock yarn, which is the most beautiful colour and so 'me'. I cast on a pair of
'Falling Leaves'
socks earlier and I think the yarn really suits the pattern. I like it when that happens. ;0)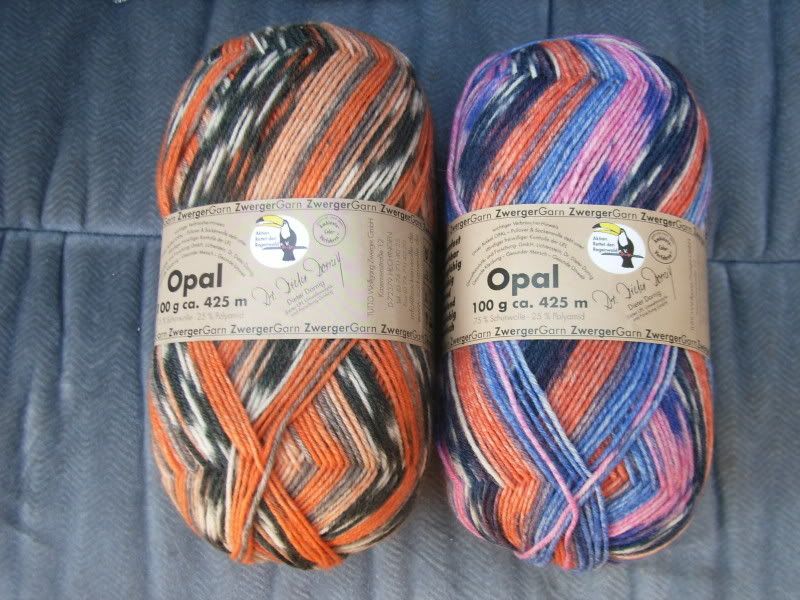 I also had 2 skeins of Opal Rainforest 3 - Butterfly - which are both gorgeous colourways and again very 'me'.
Next was a pattern book - Denim by Lang Yarns. There are *heaps* of designs in this book - sweaters, cardigans, hats and scarves - and I can see myself making quite a few of them in the future.
On the edible front - ;0) - I had (from the left) -
a bar of real 'hot' chocolate (I discovered why it was hot when I took a bite - it's *very* spicy! But very nice. ;0)
a pack of spicy cinnamon biscuits (I love cinnamon) which are a local speciality, only available between end of September and beginning of December, to welcome the arrival of St. Nicolas, a glass jar (which itself is very cute!) of Hill Country Marmalade, which tastes of summer fruits, a pack of fruit tea (made with apples, cinnamon and almonds) and two blocks of chocolates on wooden spoons - a brilliant idea - you dip them in a warm drink and suck the chocolate off. Lush!
So thank you to Sue and Jeannet for my wonderful presents. :0)
The presents have been a welcome distraction this weekend because I'm full up with yet another cold. :0( It was only the week before last that I had another one - and I was off work for 4 days with it. If I feel like this on Monday, I'll have to drag myself into work - and hopefully pass out cold on the floor so they send me home ;0) - because if I call in sick again with a heavy cold, they're bound to think I'm pulling a fast one! Annoyingly today my ears have been blocked so I feel like I'm hearing everything through cotton wool.
Anyway, enough of me and my ailments - ;0) - I'm off to knit some more falling leaves ...............