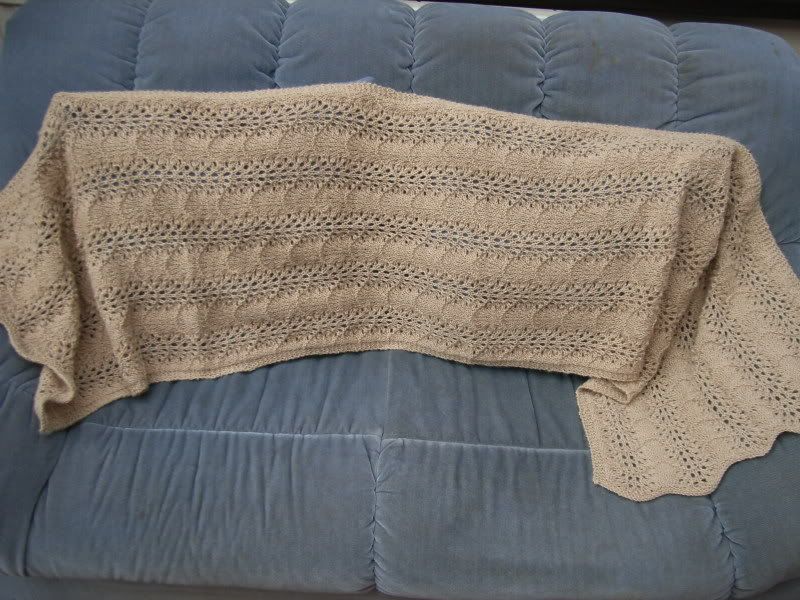 I'll start with the old. Well, there's only one. ;0)
This is the Slinky Shawl by Jean Moss. I made this about a year ago, maybe longer, but it's stood up to a lot of use really well. It's quite big and is lovely to wrap around yourself on a cold winter evening. Yarn used was Artesano Alpaca Inca Mist but I can't remember what size needles, sorry.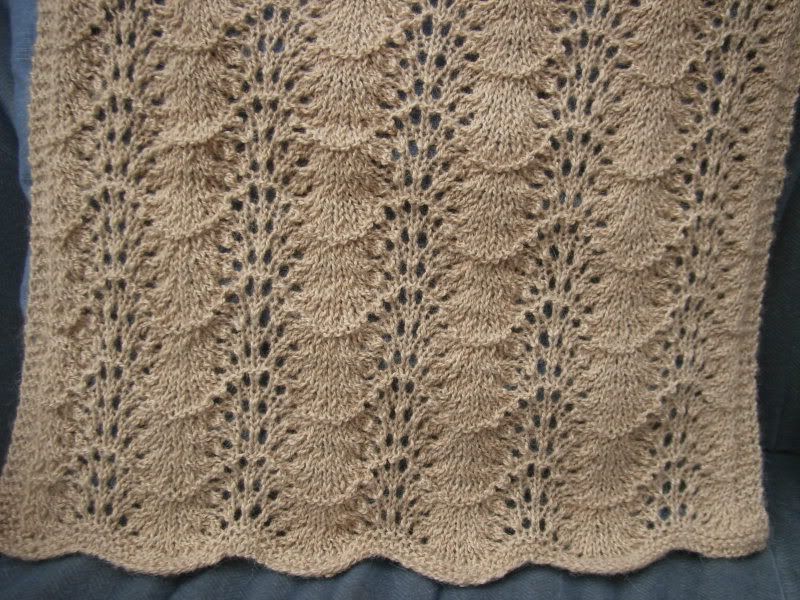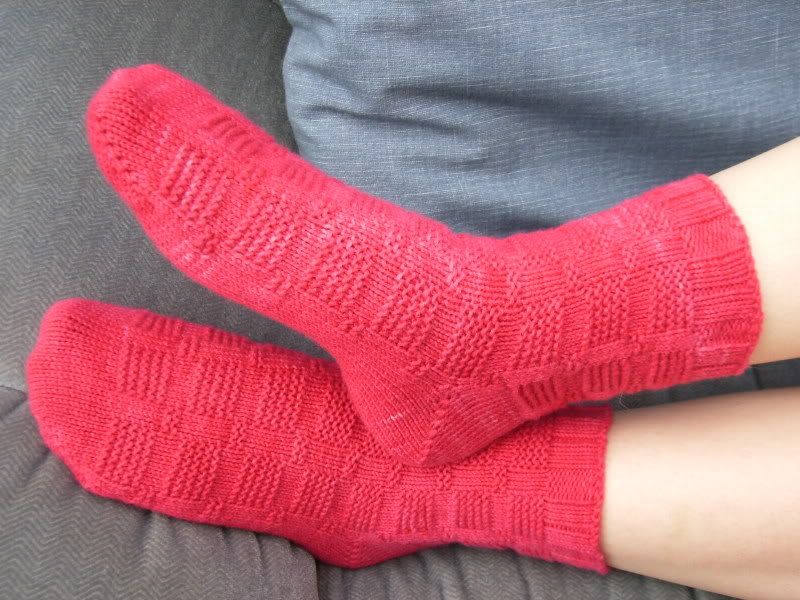 Now onto the new - I *finally* finished my Stansfield 27 socks from More Sensational Knitted Socks. I knit the first one in May but second sock syndrome set in and I couldn't face the second one. I eventually managed to finish it this month and I'm so glad I did - these are very snuggly warm socks, just right for lounging around the house today (it's freezing here!). Yarn used was Posh Yarn Emily in Carnation (shocking pink, IRL).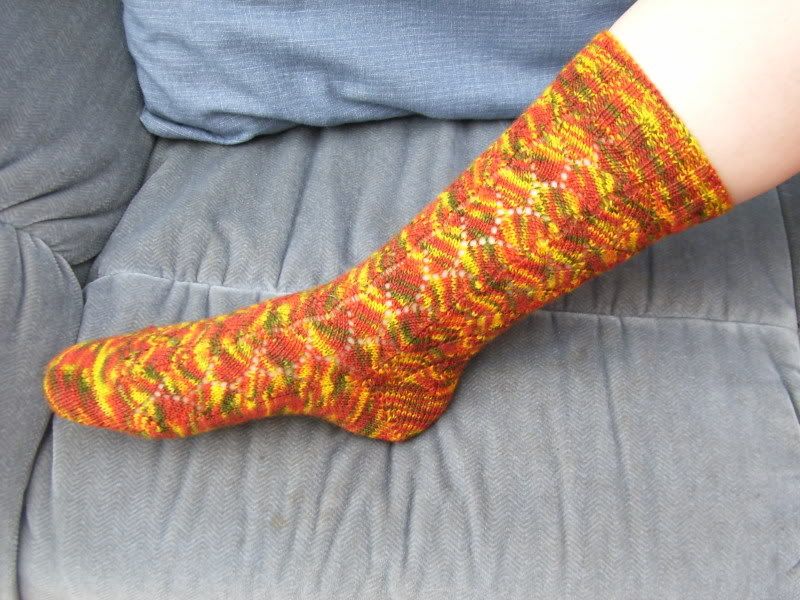 This sock is the first of my Falling Leaves pair knit using the Opal Autumn Song yarn I received from Jeannet recently (see previous post for details).
Although this is quite a busy yarn, I think the pattern shows up well. I'm using 2 x 2.5mm Addi Turbo circs. I managed to get quite a long sock out of 50g and still had a fair bit left over. Second sock syndrome will NOT set in on these socks - I'll be casting on #2 tomorrow and I can't wait to wear them. :0)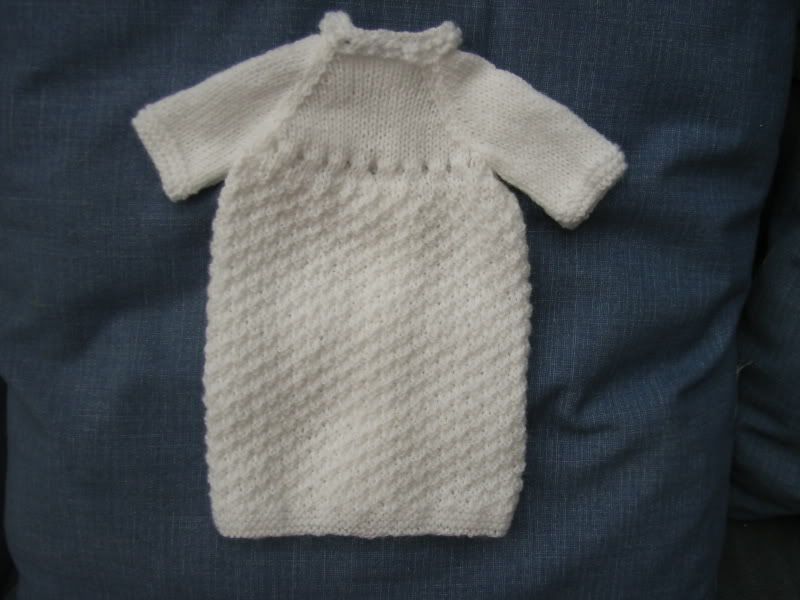 Finally, I made a start on The Bag Ladies knitting group Christmas project - we're putting together memory boxes for parents of stillborn babies and will be distributing them to local hospital baby units. We will knit 2 burial gowns - one for the baby and one for the parents to keep - along with a blanket, a teddy and will include a few other bits and pieces too.
This one took just a few hours last weekend to knit. Yarn used is Sirdar Snuggly 4 ply and 3.75 mm needles (Denise Interchangeables).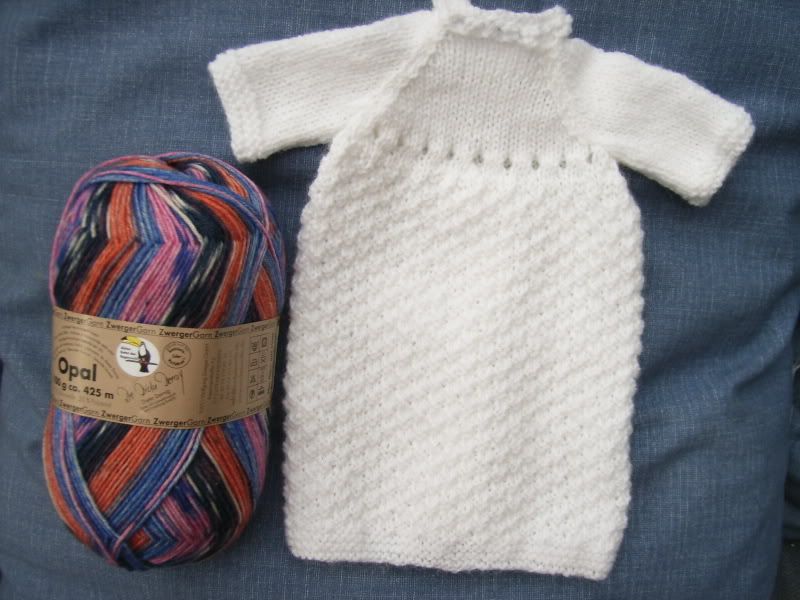 It measures approximately 10 in across the chest and is about 12 in long. I just need to thread a bit of ribbon through the eyelets to finish it.
This is so tiny - the ball of Opal sock yarn is there for size comparison.