I really don't know where these last few weeks have gone. It doesn't help that a bout of D&V one week and 'flu the next have left me feeling weaker than a wrung-out dish cloth. :0( But enough of my whinging! Onto the FOs and WIPs. ;0)
I finished the first baby blanket for my cousin at the beginning of this month. I used 2 x 100g balls of Stylecraft Special DK, yarn held double on 6mm needles.
One down, two to go ......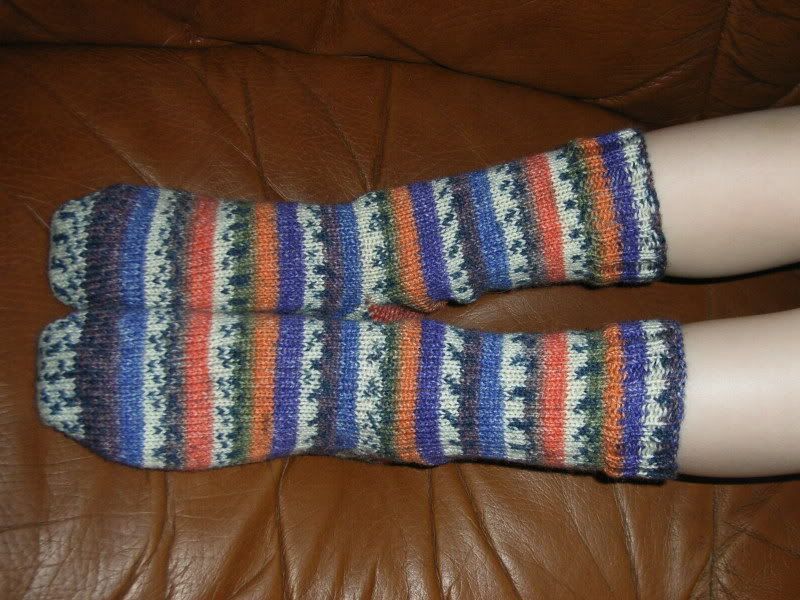 I finished these socks for my son, also at the beginning of this month. This was a ball of yarn I've had in stash for ages after I did a swap with an online friend. It had no ballband on it, so could be anything really, but from the feel of it I'd say it's Opal. I used my usual toe up pattern on 2.5mm needles.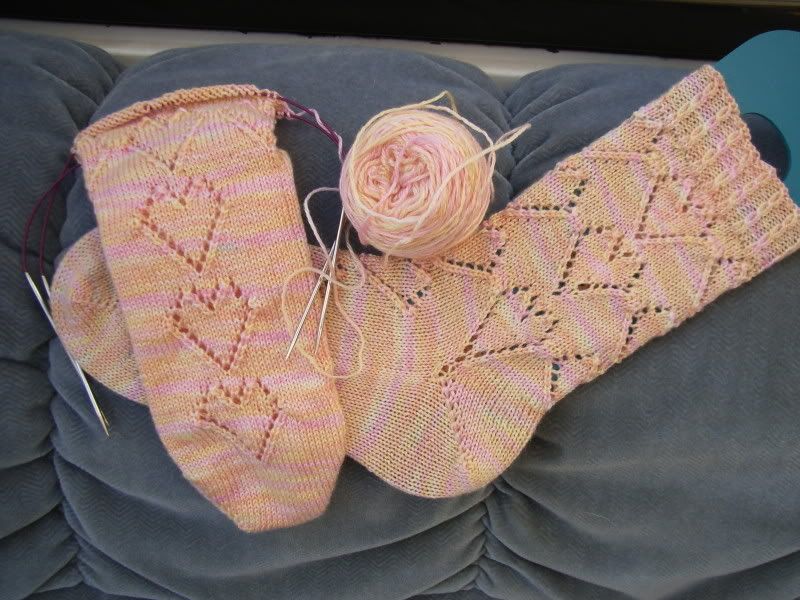 I've almost finished this month's Sockamania pattern - Simply Love. Again, this yarn has been sitting in my stash for ages just waiting for the right pattern to come along. And here it is.
The yarn is Fyberspates Merino Tencel in the Sherbet colourway, which reminds me of Battenburg cake so you can imagine what I've been obsessing about since starting these! ;0)
I love the twisted cable on the rib, too. It was a bit difficult to start with - twisting through the backs of loops - but wasn't too bad once I'd got going.
It was worth it because it really finishes the socks off nicely.
In between my first and second Sockamania sock, I made this - Regia Silk Colour on 2.5 mm needles.
Again, this was yarn I swapped online and I really must buy more - it's lovely to knit with and feels great on the foot. I managed to get a nice long leg from the first 50g ball too. The second one will be started once my Sockamania socks are finished.
The newest Knitting magazine arrived yesterday before I went to our knitting group meeting in Pontypool. There was a lovely cable jacket on the back which kept nagging at me the whole time I was there, so I popped into my LYS on the way home and bought some wool to make it. They didn't have enough of the shade of Sirdar Click Chunky I wanted, so I went for Sirdar Peru Naturals in the Machu Picchu colurway (# 0553).
It's the first time I've used this yarn but I really like how it's knitting up, it feels a lot softer than it does on the ball.
I'm using 6.5mm needles as recommended and it's knitting up nice and quickly, which is always a bonus. ;0)
At the knitting group yesterday, I didn't get much knitting done because I was teaching 2 new members, Alison and Ruth, how to make toe-up socks. .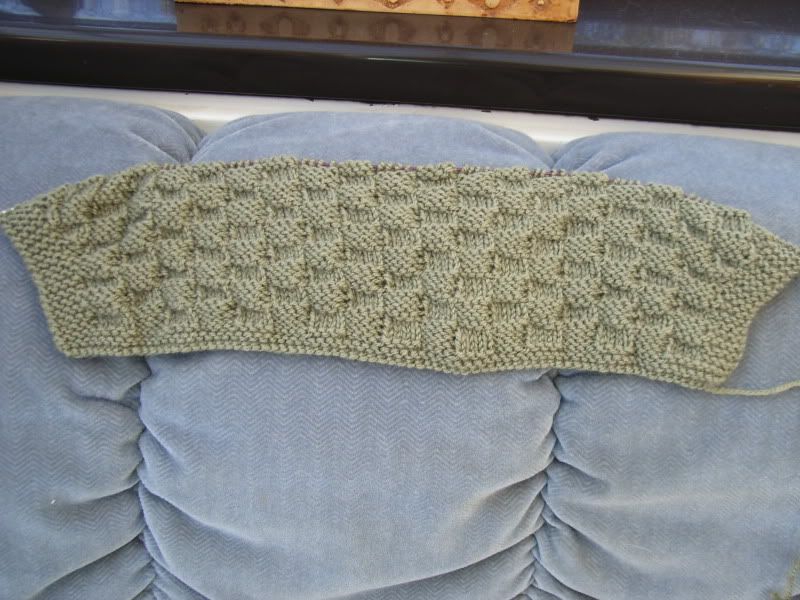 However, I did manage a few rows on another dog sweater - this time in Bergere de France Sport in a khaki colour.
On the topic of dog coats, I'd like to say a very big thank you to Alison and her mam who knitted some dog coats to be donated to the
Many Tears Rescue
in Llanelli.
Alison made this one.
And her mam made the other three. The blue one is extremely soft and I just want to keep stroking it. ;0)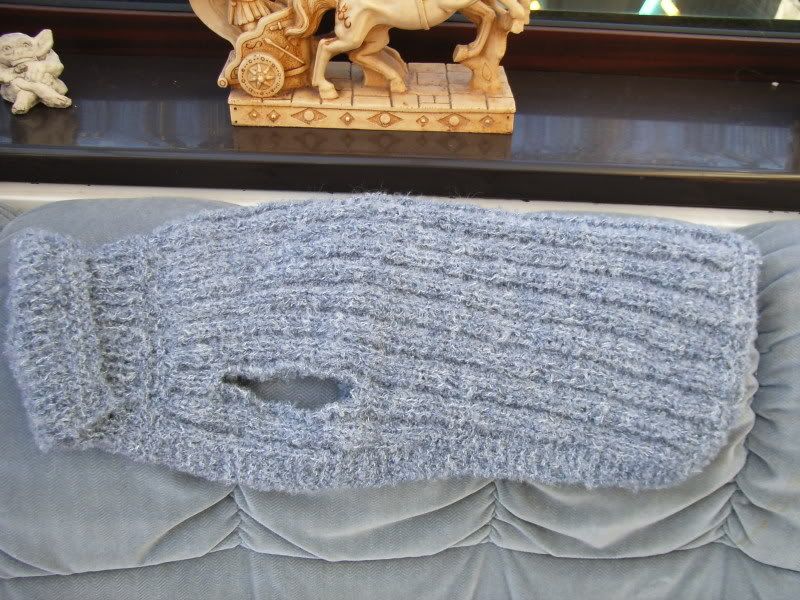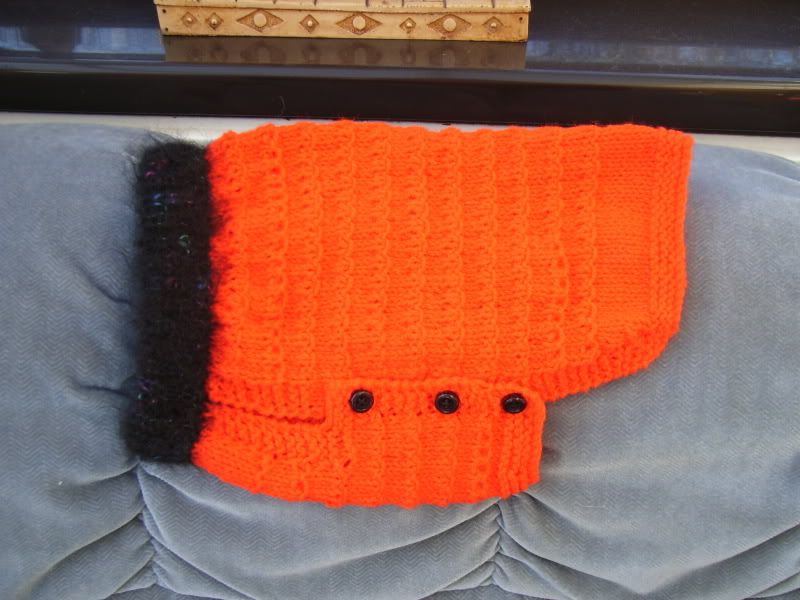 So thanks again for all your work in making these sweaters - the dogs will really appreciate being toasty warm when they're wearing them. :0)