I have a fab new sock bag. Yes, I know I have a few already but I have a lot of WIPs, so another one will be really useful! ;0) I first saw it
here
a few weeks ago (click on "small bags for small projects on the right) and managed to hold out for a week or two - but couldn't resist and ordered it from Danielle's
Etsy shop
on the 19th. She mailed it to me on the 20th and it arrived today. FIVE DAYS from the States. *shock* How speedy is that?! I'm really impressed. :0)
It was wrapped beautifully - and I had sweeties ;0) I'm really pleased with the quality of this bag and can't praise Danielle enough. :0) GO TO HER ETSY SHOP AND ORDER YOUR OWN NOW!!!! ;0) You will not be disappointed.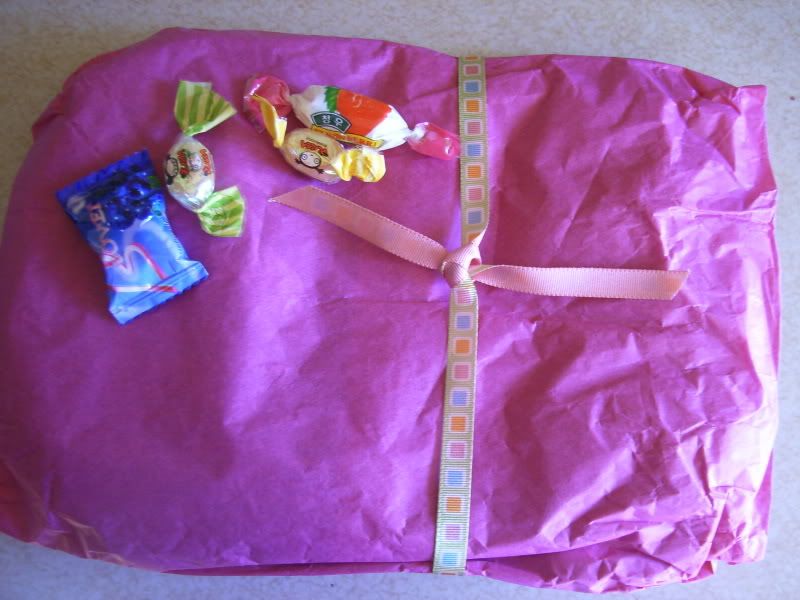 My bag had its first outing this afternoon when I took DS to his friend's 5th birthday party. While the kids bounced like loonies on the bouncy castle, I sat drinking lager and knitting on my
Colinette
Jitterbug sock. Bliss. :0)
In the pocket was a basic sock pattern, needle and grafting instructions and some fab stitch markers that Danielle sells in her shop.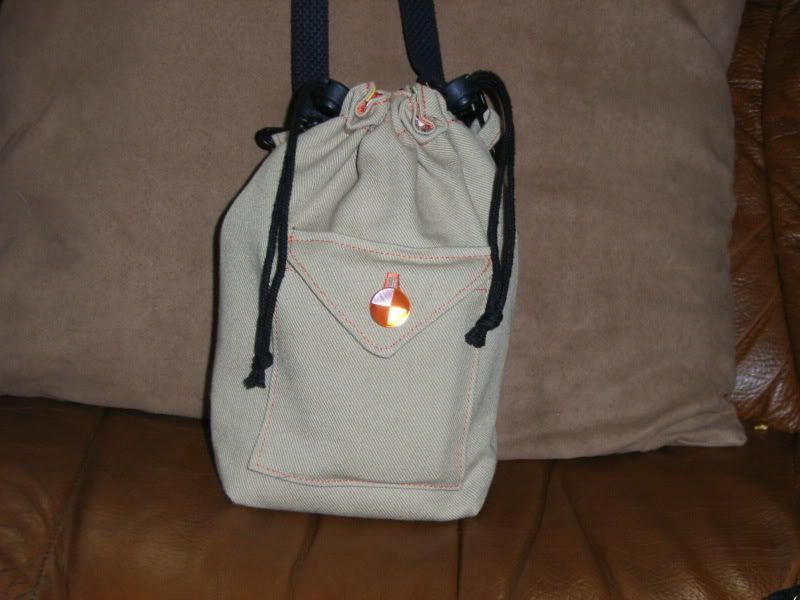 And the bag is reversible - it's got the Sockapalooza fabric on the inside.
I'm so happy - I'm in sock bag heaven! ;0)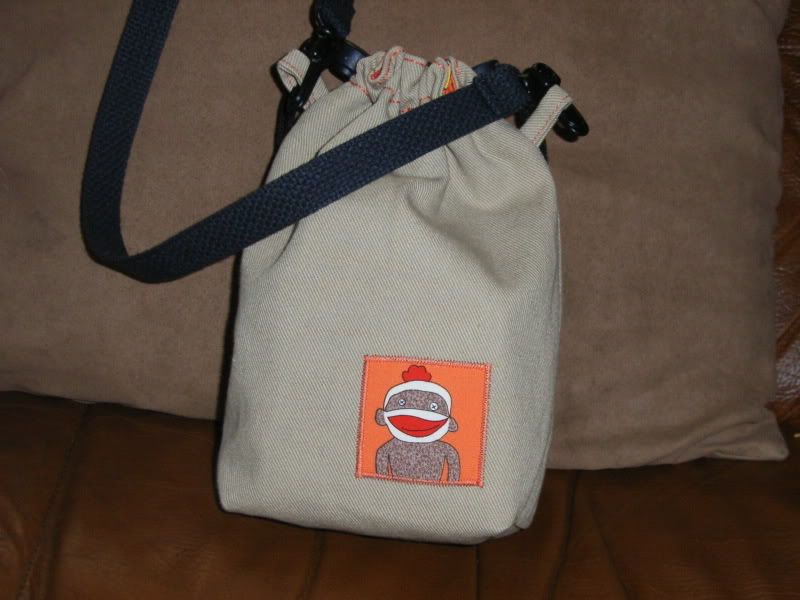 Elsewhere, I've been knitting more squares.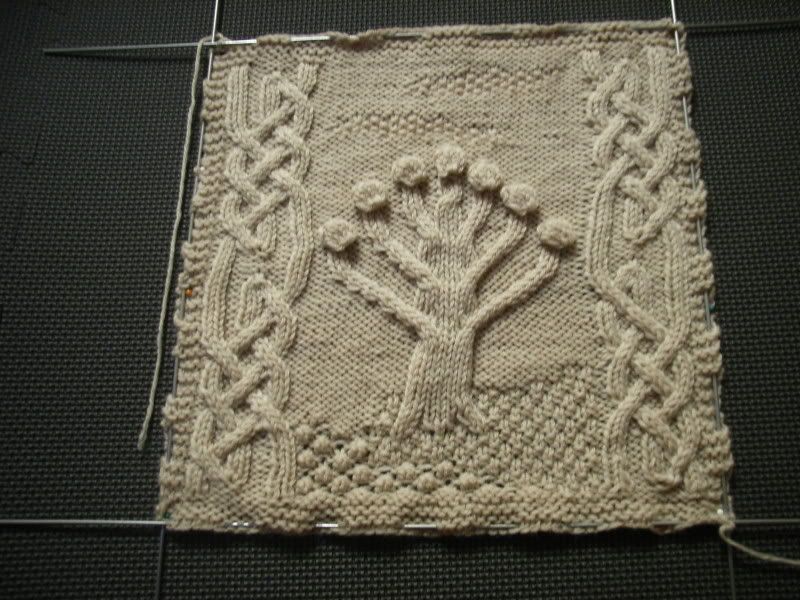 This one is Ada Fenick's Tree of Life square from the Great American Aran Afghan - see
here
for details of the individual squares. It's VERY quick to knit - something I approve of! ;0) I have to say, these are the biggest bobbles I've ever knit! They're humungous! But they do look effective. ;0) I liked this square, because it was like painting a picture but with knitting IYSWIM?
I started this at about 11 this morning and finished it about 10.30 this evening. And yes, I do have a life and unfortunately that life did get in the way, as it invariably does. ;0)
In between, I bathed [me and DS ;0) ], hoovered the house, cooked breakfast, lunch and tea (and washed up), cleaned and exercised the rats, took DS to his friend's birthday party and did 3 loads of washing - which dried quickly thanks to the fantastically HOT weather we're having today - YAY! Summer at last!!!!
Now, much as it pains me to give this square away [;0)] it will be added to my auntie's afghan, which is part of her Christmas present. The yarn I'm using is Cascade 220 (Oatmeal) with 5mm Knitpicks Options needles. This is the second square I've knit from this book and both times, I've used different size needles than stated. With the Cascade yarn, I get the correct tension with 5mm so I'm sticking with those for the time being. Also to be added to auntie's afghan, this is the first square from the GAAA I knitted - Jay Campbell's "Play Yard" which is knit in the round.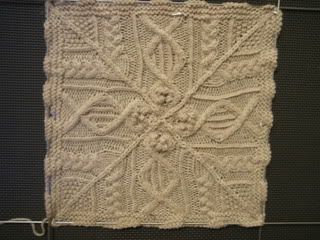 This is the first time I've used the "knit-in-the-round" technique to get a square but I really enjoyed it.
Both times I followed the charts instead of the written instructions, something I would have avoided like the plague a few months ago. But now I find charts so much easier - the pattern is easier to "read" and I find it makes the knitting much quicker.
Yesterday, I decided to crochet the beaded wrist purse I purchased from
DT Craft and Design
when I visited Wonderwool Wales a few months ago. This was my first go at using Procion Dyes and I used just one - Deep Purple. It took beautifully. The dyeing took about 6 hours and crocheting the bag took about 3! Here it is: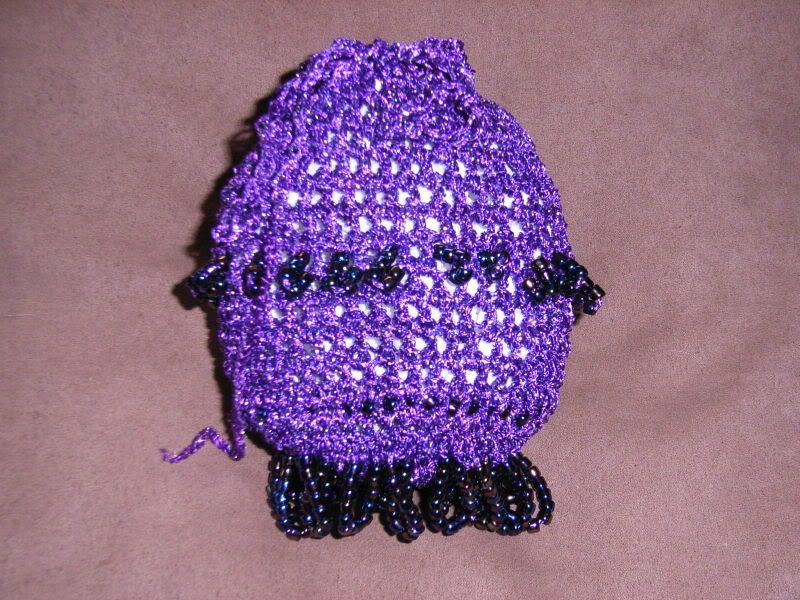 It's quite small (about 3in around the base and 3.5" tall) but I'm really pleased with how it's turned out. This is my first try at crocheting a bag, and my first go at using beads, which gives the bag a nice "weight". I'm not sure that I'd ever use this, but I'm glad I made it. ;0)
Now, I really must knit a bit more on my Della shawl ....... but that naughty American afghan book keeps demanding my attention! ;0)